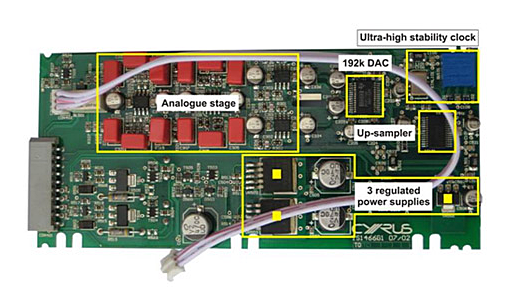 Cyrus Qx DAC Features:
Regeneration of clocks and upsampling the incoming data to 192 khz: All incoming data is processed in order to upgrade all digital inputs
High precision quartz reference anti jitter: Accurate alignment of clock edges eliminates circuits timing errors
192kHz upsampling: Minimise phase shift in audio band
Specially developed fully balanced analogue low noise 4 pole design: Flat response across audio band
Carefully tuned output stage: Capture subtle sounds which would otherwise be lost, smooth treble definition, wide sound staging and tuneful bass that will 'time' better
Advanced power supply and multiple filtering techniques: Enhance the best possible DAC performance
Extensive use of Star-earthing: Minimising power supply effects on audio signal
Comes as standard with our best DAC products: Cyrus 8₂ DAC Qx, Pre₂ DAC Qx and Stream XP₂ Qx
Product Overview
The Qx DAC is a sophisticated decoding system built onto a separate card that includes additional power regulation that feeds from the host product. By adding a Qx DAC card you will improve the sound quality of all connected sources and you can expect better resolution with clearer high frequency definition across all your digital inputs. The addition of this module provides a simple yet effective upgrade to the original DAC.
The Qx DAC features quartz reference anti jitter circuits to re align the edges of the digital signals coupled with upsampling to 192kHz. This eliminates timing errors which manifest themselves as unwanted signals in the output. This regeneration of clocks and upsampling gives clear advantages over the on board DAC
A 24-bit integrated filter DAC delivers state of the art technical performance in noise, distortion and linearity. This exceptional low level response allows small signals to be conveyed more faithfully.
The analog filter is a low noise 4 pole design, giving flat response across the audio band, with rapid attenuation of the high frequency digital images
Specially chosen components and the widespread use of SMD devices minimises path lengths and component lead-out wires. This together with extensive power supply decoupling and star earthing enables the Qx module to perform with complete freedom from noise and instability, resulting in outstanding low-level resolution and clarity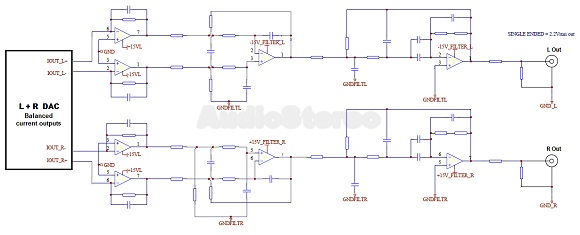 Qx DAC
24bit/192kHz DAC with balanced current output and low noise 4 pole analog filter design. Sophisticated regulation stages.
Further Information
The description of a "DAC" implies that the whole thing is just a chip! While the choice of decoder is an important part of the designers plan it is by no means the whole story. Getting the best performance from any Digital to Analogue Converter requires detailed understanding of the power supplies and filtering stages to ensure that the recreated music signal is made from the highest quality electrical signal possible. In fact Cyrus learned many years ago that it is entirely possible to boost the anticipated performance of any converter IC by properly understanding the strengths and inevitable weaknesses of the design. This has been a specialisation of Cyrus engineers for over 20 years so you can be sure that the Qx card is a DAC system built into a very high quality core platform.
At a basic level of audio it is relatively easy today to build a 'latest spec' DAC that can indeed be a chip with a power supply. Clearly Cyrus wants to develop much more rewarding systems and the understanding we have gained, over the years designing many digital projects, allows us to tune the sound balance to capture the subtle elements that could be so easily lost. Cyrus is all about these subtle details that subliminally contribute to our appreciation of what an artist gave in emotion and skill that make hi-fi so rewarding when we get it right!
Technical Information
Audio output impedance: 47Ω
Frequency response: 20Hz-40kHz (96kHz Fs); 20Hz-20kHz (44.1kHz Fs)
THD: <0.002% (ref. 1kHz, 0dB)
S/N ratio: >110dBa
Dynamic Range: >100dBa
Channel separation: >100dB @ 1kHz
- 192kHz Up-sampling
- Accurate re-clocking
- Additional high performance regulated power supplies
Cyrus Qx DAC used in: