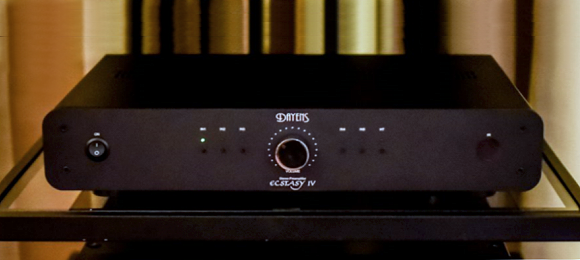 €2490
Dayens Ecstasy IV Preamplifier Features:
Hi-end active design preamplifier
Short, clean signal path
No coupling capacitor (must be paired with capacitor coupled amps like our Ecstasy IVse or Ampino Monos)
Separate electronic card for all control stages
HT (Home Theater) bypass function
Robust power supply

The Ecstasy IV preamplifier is a result of a two-year development process and decades-long experience. It emerged from the need for the Ecstasy series to be rounded up and offer an exceptional audio device at a reasonable price. Like most Dayens devices the Ecstasy IV preamplifier boasts a clear and discreet design whose attractiveness lies in its simplicity. Simply put, it's a look that does not wear out and withstands the test of time.
In all of our devices we use carefully selected components of proven manufacturers with excellent technical characteristics, but what is much more important, with an even better sound. Ease of use, short signal paths, robust power supply are just some of the features of our latest Ecstasy IV preamplifier.
As always we listened to the suggestions of our users and we implemented an option intended primarily for home cinema enthusiasts. Ecstasy IV supports HT bypass function and can be integrated into a high-end surround system.
A great product. When paired with our Ecstasy IVse amp it makes for an amazing combo.
Technical Information
Specifications
Gain: 3dB
Frequency Response: D.C. - 200kHz (-3dB)
Input impedance: 100kOhm
S/N Ratio: 100 dB
Dimensions (H x W x D): 95 x 460 x 300 mm
Weight: 6.5 kg
Finish: Black satin
Line inputs:
5 RCA pairs
1 HT bypass RCA pair

Outputs
2 RCA pairs

Construction
Stamped steel chassis, black satin painted enclosure
Machined aluminium, brushed black face plate
Chromed inox volume knob