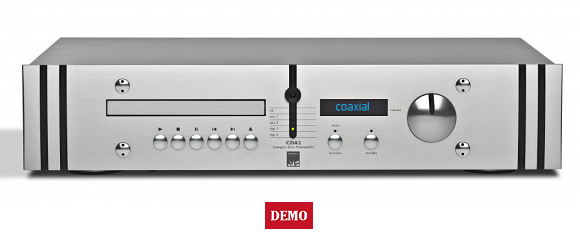 £2420
ATC CDA2 Mk2

Impressive transparency. Its tonal balance is as even as you like, with no part of the frequency range gaining undue emphasis, so the natural tone of instruments (and voices, as we find out when we listen to Nina Simone) come through undiminished.
As with the company's speakers, the CDA2 is impressively transparent to the source material. It's not one to fudge things with coarse or aggressive recordings, so any flaws are easily heard. Equally, it won't go out of its way to make such recordings unlistenable, such is its refinement and lack of overt distortion.
The sound through the line-level inputs is excellent, showing a degree of insight, warmth and finesse that is unusual in such a digital-centric product.
The ATC sounds thrilling when the music demands, but can also soothe when required.
ATC CDA2 Mk2

When I swapped out my Shindo Allegro preamplifier for ATC's internal preamp running direct into the power amp, things got only better. While music now sounded slightly more forward, it also grew in scale, resolution, and weight—especially bass weight, which turned boomy with some CDs. Now, with the Krall-Bennett CD, I could hear piano hammers striking piano strings. Tony Bennett's voice was more detailed, the sense of its freshiness more vivid; his and Krall's voices were better balanced with each other. Ullrich's disc of Mozart sonatas also revealed the unique sound of hammers on strings, and weight and tonality also improved, creating a massive soundstage and a more forward sound. All in all, I was surprised at how different the ATC's internal preamplifier sounded from my Shindo Allegro preamps. Warmth remained, as did the ATC's luminous translation of digital material, while resolution—and, to a larger degree, weight and soundstage height—improved by considerable margins.
Conclusions
You could ea sily spend $2000 apiece on a CD player and preampliffer and not get the construction quality, ease of use, and fantastic sound of ATC's CDA2 Mk2 CD preamplifier. I was shocked when the ATC went head-to-head with my more expensive Shindo preamp and bettered it in some regards, and it worked very well with my tubed power amplifier. With ATC's CDA2 Mk2 offering pleasing tonality, resolution, and dynamics, a versatile feature set, and rock-solid build, all for a decent price, it's impossible not to crown it with the highest recommendation. It can provide a fine starting point for a solid high-end system.
ATC SCM 40 Active & CDA2 Mk2

This is a startlingly immediate system. The 44.1 rip of Emiliana Torrini's Gun has a presence and visceral 'she's right there in the room' quality to it. Her staccato intakes of breath are vivid and absolutely real, while the gradual increase in scale and volume to the track is handled with absolute imperiousness.
And the bass… the low end on offer here is exquisite. The technical arguments for why active speakers can generate better bass than an equivalent passive design are worthy and entirely accurate, but are no substitute for listening to what this system is really capable of. The sledgehammer low-end of Scratch Massive's Waiting For A Sign is simply awesome. If you want bass that you feel as much as hear, there's very little else available anywhere near this price that can out slam this setup. What sets it apart further is that there's nothing I've ever heard anywhere near this price that combines this gut-wrenching impact with the agility this system possesses. As a combo, it is utterly addictive.
The role that the CDA2 Mk2 plays in all this is subtle, but effective. It gets all of the basics right with a wonderfully linear volume control and a total absence of unwanted noise, but beyond that the quality of the digital-to-analogue section is entirely noteworthy. It takes a little time to appreciate quite how good it is because it is so natural and unobtrusive, but it allows this system to demonstrate truly lovely tonality at times.
This, then, is a rather special system even judged by the hallowed standards of Beautiful Systems. It is comfortably one of the very best implementations of active speakers that I have had the pleasure of spending any time with. It does the things we have come to expect from equipment in 2018, offering a sensible footprint, flexible inputs and elegant aesthetics. It then combines all of this with a performance that is utterly and unequivocally joyous. The active loudspeaker is no longer simply the optimal choice on paper, it's a real world champion too.
ATC CDA2 Mk2

Hi-Fi Choice Recommended, May 2018
The CDA2 Mk2 delivers it with real drive and a wide open view of the layers of the recording, charging through the album with such verve that it seems to be over almost before it's started.
With a wide-open sound, masses of detail and unrestrained slam, it makes a fi ne partner for power amps and active speakers alike, getting on with the all-important business of delivering the music without adding or subtracting anything.
LIKE: Neutral, detailed, and wide-open sound
WE SAY: Functional, styling and an impressively neutral performance make this a great multipurpose CD player
ATC CDA2 Mk2

Electrical noise is the enemy of digital audio as products like the Innuos Zenith SE prove and ATC have paid close attention to keeping it as low as possible by building a new power supply with nine extra voltage regulators above those in the original CDA2. ATC has also refined the in- and output gain stages with discrete op-amps that provide buffering of inputs and a true balanced output from the XLR connections, the output stage itself being biased in Class A.
As an analogue preamp the CDA2 Mk2 is very strong as well with excellent bass extension, a very open presentation and very good image depth. It shares the coherent demeanour of the digital input and adds a relaxed quality that helps to bring out the musical message extremely well.
The results were inspiring, a combination of authority, articulacy and rock solid timing made for a musical experience that was nigh on addictive.
The CDA2 Mk2 is well built, comprehensively equipped and highly revealing, but more importantly it makes familiar material engrossing, it makes you listen longer and dare I say it, louder. ATC has driven down distortion and noise so that more of the crucial timing and imaging cues can be heard, in the process they have delivered their finest digital product yet, it's a great pity they took it away! Jason Kennedy
ATC CDA2 Mk2

Hi-Fi News Higly Commended, April 2018
The crisp resolution of the CDA2 Mk2's digital section allows the lumbering rhythms of 'Have A Cigar' to power out into the room, while making every detail of the lyrics and recording plain to hear.
HI-FI NEWS VERDICT: The music centre, ATC style: the CDA2 Mk2 may have all the air of 'a horse designed by committee', as it does so much, but this is more thoroughbred than camel, with a wide-open sound, masses of detail and unrestrained slam. It makes a fine partner for power amps and active speakers alike, getting on with the business of delivering the music without adding or subtracting anything. If it does all you need, it's a bargain.. Andrew Everard, Hi-Fi News, April 2018.
ATC P1 & CDA2

Best Stereo system Hi-Fi i Muzyka, 2014 Award.
The sound is characterized by neutrality and linearity study . The transparency reminds of headphones, and the dynamics gives the impression as if possessed kilowatt .
The sound is so realistic and has the momentum that we feel like at the concert. Not only did this in concert halls, but also rock , just before the stage. Impressions are spectacular, and the return to "normal " equipment - often painful.
The price is ... low and does not reflect the class British set.
ATC P1 & CDA2

First impressions are dynamics, mass and energy of sound. Brute force reveals terminations at each jump the fan sound. It seems that there is no possibility that the amp ran out of steam.
These 150 watts creates a downright shocking effect, overgrown make my Mac MA7000. Concerts rock, symphonic orchestra tutti, electronic wall of sound Massive Attack - all for ATC as the bull potato.
The duo swallows every challenge and before we thank you for such an impressive performance, poured more blows. Likewise, the sound instantly expires; is controlled just perfect. These things we hear from MBL-a monoblock and other horribly expensive power plants. ATC may only offer less sophistication. Playing for it normally. No frills, colorations or building unnatural, though pleasing to the ear of effects. From the beginning, you may not like a rave, but parting with it will be painful. Once you hear natural-sounding instruments, will be difficult to go back to the mystified version.
You can catch a little Audio Research accurateness and indifferent Spectral precision, but after a while I feel that comes to the fore another priority: transparency.
Regardless of the degree of complexity and clutter instruments, the sound is drawn on graph paper, with clear contours. It can therefore be a heavy metal guitar extract individual rows, although others also play in the same band.
Easy to fish will squeak of chairs or other attractions, which usually remain hidden. ATC, as perhaps no other amplifier, showed the work of a piano pedal mechanism on our starenkim sampler. MBL has the same advantages, but I always try to stay smooth and velvety. Meanwhile, the ATC is not afraid to sharply sip or make a noise. Perhaps some consider it as a disadvantage, but I see this as a boon inventory.flawlessly system also shows the quality of the recording. Interestingly, many of the classics from the 60s and 70s can sound surprisingly fresh.
CDA2 Player - phenomenal. Both because of the sound, as well as on-board preamp. For the active column is a complete hi-end system.
ATC CDA2

Midrange offered a sense of fullness, and they were transparent and detailed. The listener had always a feeling of being near the orchestra and the voices, both the solos and the choir, were rich and quite realistic both in size and character. The high frequency part of the spectrum offered.
CDA2's preamplifier section proved to be transparent, with low noise levels and therefore capable of quite good dynamics. Stereo imaging was at the same level as when listened through its digital part and the feelings of easy listening, the fullness and the realism were also there. The final result is that this is not a casual preamplifier stage, included only to justify the integrated form of CDA2, but a well designed, full spec preamplifier.
Build and sound quality are very good and the price is more than tempting. In the end, this is a piece of equipment of great value for money.
ATC CDA2

Hi-Fi Choice Recommended, Issue 376, October 2013
"Very revealing and tremendously dynamic with genuine low-end power."
"A heck of a lot of CD player, preamp and DAC for the money"
* * *
ATC CDA2: high end DAC preamplifier with CD player, hand built in the UK
The CDA2 Stereo CD preamplifier has been designed to partner ATC active, and with an appropriate Power Amplifier, passive loudspeaker systems. It incorporates 2 line-level analogue stereo inputs on RCA phono sockets, together with a 3.5mm Jack socket input, an internal CD Player system, 2 digital SPDIF Optical Toslink inputs and 2 digital SPDIF Coaxial inputs on RCA phono sockets. A main line level stereo output on RCA phono sockets, true differential Left and Right outputs on XLR sockets and a headphone output on a ¼" jack socket.
For elegant simplicity, we can't think of anything that would outperform the new CDA2 driving a pair of 19A or 40A active speakers. Meanwhile, those seeking a more traditional system approach should be urged to audition the CDA2 partnered with P1 or P2 power amplification and passive loudspeakers.
ATC CDA2 Features:
Ultra-low noise discrete design
All discrete Input and Output gain stages
Output:

True differential Left and Right outputs on XLR sockets
1x Stereo output on RCA sockets
1x Headphone output on ¼" jack socket

Input:

2x Line-level analogue stereo inputs on RCA sockets
2x Digital SPDIF Coaxial inputs on RCA sockets
2x Digital SPDIF Optical Toslink inputs

Discrete output stage capable of driving 18V r.m.s. (balanced) and 9V r.m.s. (unbalanced) into 100 ohms with no signal degradation
Extremely wide and flat frequency response and very low distortion noise for best possible performance
Discrete headphone stage specified to drive a very wide range of headphone sensitivities and impedances
Internal CD Player system
Very High Performance 24/192 capable DAC
Display dim: Full, Low and Display off
Hand built in the UK
6 year warranty
Specifications
Pre-Amplifier
Frequency Response (-3dB) : 2Hz – 280kHz
Distortion (1kHz) : <0.001% / 100dB
Input sensitivity for 2V Output : 640mV
Maximum Output Level : XLR 18.4V r.m.s., RCA 9.2V r.m.s.
Overload Capacity : 13dB
Input Impedance : 13k8 Ohms
Output Impedance : 10 Ohms
S+N/N Ratio : IEC "A" >110dB, DIN >105dB, Wide Band >97dB
Absolute Phase : Phono Zero Degrees, XLR Zero Degrees, Pin 2 Hot
Output XLR CMRR (100Hz - 10kHz) : >60dB
Digital Input - Optical and Coaxial
Distortion: 1kHz <0.003% (-90dB)
Frequency Response (+/- 0.1dB): 20Hz – 20kHz
S+N/N Ratio: >96dB (IEC "A")
Word Lengths Supported: 16bit and 24bit
Sample Rates Supported: 44.1kHz, 48kHz, 88.2kHz, 192kHz
CD Player
Distortion: 1kHz <0.002% (-94dB), 10kHz <0.003% (-90dB)
Frequency Response (+/- 0.1dB): 20Hz – 20kHz
S+N/N Ratio: >100dB (IEC "A")
Physical
Dimensions (HxWxD) : 90 x 445 x 330mm
Weight : 7.1kg