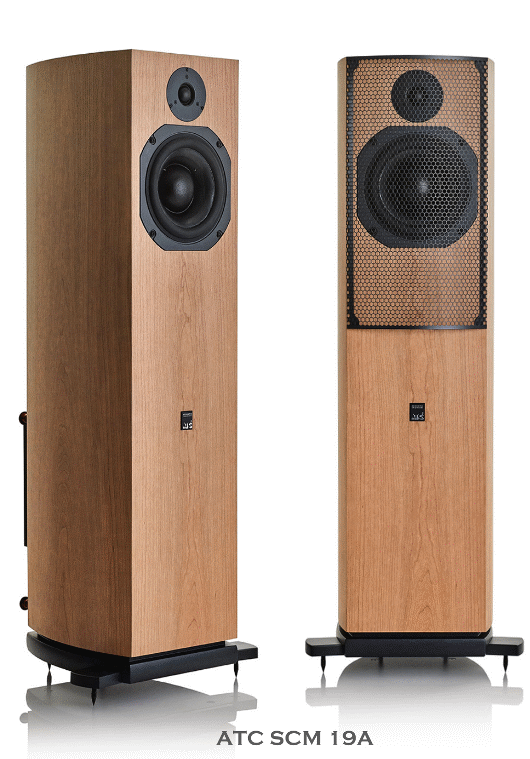 £4800
ATC SCM 19A

SCM 19A:

82 out of 100 points

Price / Performance: : "very good"

"Represent with phenomenally sharp, closed picture, perfect impulses and transparent audible tone colors monitor tradition in the best sense."

Not every manufacturer follows the call of the market - ATC this time. After the SCM 40A, there was a desire for a more affordable yet active floorstanding box. The highlight of the SCM19A: the cone-dome hybrid driver.
The ATC SCM 19A impressed us with musical precision, superb audibility, and sleek, perfectly crisp pulses.
Particularly impressed with the fantastic image and the ability to facet the music to the smallest detail without annoying.

The advantages of active technology she casually and with an impressive self-evident. Thus, the manufacturer, who enjoys an excellent reputation in the professional field, represents a real alternative in the hi-fi sector. The SCM 19A once again combines the precision of a studio monitor with the superb transparency of a genuine gourmet box. Best of both worlds?
ATC SCM 19A

Far and away its biggest asset (and this was also true of the SCM19) remains its fast, dynamic, and transparent midrange—one that anchors images, from vocals to violins, and establishes their palpable presence in the room.
Image placement is fastidious; at times almost startling in the way musicians inhabit their own space with authority, clarity, and specificity.
There is no two-way loudspeaker that I would recommend more highly. Neil Gader, The Absolute Sound, May 2017
ATC SCM 19A

The ATCs excel in a surprising way. The presentation is quite forward, but really captures the atmosphere and mood. 'Presence' is an overused word, but it suits here.
The lack of colouration, massive dynamic range, ability to reproduce transients, and accurate imaging are beguiling.
They produce a real feeling of width and depth, and a lifelike presentation. In particular, lead vocalists seem to be in space front of the speakers.
The obvious test of any piece of equipment is its ability to make you keep listening. As I start the first draft of this review, we have most of the family arriving for Easter on what was tomorrow but is now today. It is three in the morning and I am being moaned at, not unreasonably, for carrying on pulling things off the shelves to listen to. That, in a nutshell, is the ATCs. They make you want to keep finding things to play. A number of tracks are probably the best I have ever heard them sound. Richard Bowles, Hi-Fi Wigwam, April 2017.
ATC SCM 19A

The dynamics and transients are really excellent... The top end is so detailed with not a hint of any harshness as the tweeter is one of the finest sounding I have come across, with Robert Len's trumpet sounding sweeter than ever.
The ATC scm19a speakers have all the potential for offering up this album with an extra-large serving of quality. The dynamics and transients are really excellent…with the ability to create a large scale sonic picture in my smallish room. The top end is so detailed with not a hint of any harshness as the tweeter is one of the finest sounding I have come across…Listening to the scm19a speakers has proved to be a very rewarding experience
The Speaker Shack awards the ATC scm19a speaker with a Highly-Recommended product rating. Giancarlo Massironi, The Speaker Shack, March 2017
ATC SCM 19A

I was tremendously impressed by the high end response of the scm19as for its transparency, smoothness, and definition. I never heard a harsh sound out of it. It compared very favorably with the ceramic tweeter in my own Marten Django XLs, which is really quite outstanding.
I immediately noticed the lifelike presentation of voices that really seemed to jump out from the speakers and exist in open space. In-concert vocal recordings were really special
Images were rock solid and it was easy to pinpoint the position of the other band members behind her. The soundstage had such a natural spatial presentation that nothing stood out as being too small, too large, fuzzy or floating. Everything just seemed to be in its correct place.
The ATC's are capable of sounding very dramatic when the music and performance call for it, a result of their fine dynamic contrasts, tonal character, and nuance. Instruments and especially voices were realized with a vividness and transparency that were top notch. Additionally, for a small speaker, they could really fill the room and play very loud.
This extended and tuneful bass really drove the music forward and made best use of every cycle of bass there was.
The midrange was smooth and involving with no hint of problems around the crossover point. I've already told you how great these speakers sound on vocal recordings, but the same was true on instrumentals and large scale orchestras. Detail and transparency were also terrific for a speaker in this price range.
The scm19as are a wonderful advancement in the state of the art of active loudspeakers. You could easily spend three times as much on comparable separate components and not do as well. I strongly encourage you to seek out the ATCs and give them a listen.
ATC SCM 19A

Performance was simply stunning. Newton and his guitar did something for me I didn't think I'd feel with these ATCs. Their ultra-transparent midrange imparts a subtle fluidity to the vocal and even the softest guitar notes sound slightly liquid on the leading edges whilst retaining speed and authenticity.
If you're looking for a no brainer approach to high fidelity sound at a reasonable cost with great looks and build quality, and one that lowers the box count I'd strongly recommend a demo of the SCM19As.
AT A GLANCE

Sound Quality: very engaging, exciting and honest
Build Quality: strong solid build, nice veneer and amp pack integration
Value For Money: in the grand scheme of finding a great sonic match amplifier and stands, ATC take away the burden of wasting money and time with the designs synergy
Pros: Honest and insightful sound Incredibly transparent midrange Confident stable soundstage Lovely design and finish
ATC SCM 19A

SOUND QUALITY: Even if you're familiar with the dynamic largess and gloriously un-hyped presentation of the standmount passive SCM19, this active tower moves the game on in unmistakable ways. In raw terms it goes louder with less distortion while exhibiting tighter control, wider and more finely graded dynamic contrasts, a deeper, harder-hitting bass and greater rhythmic impetus and drive. Yep, rather than peering through the window, we're standing in the open doorway of the studio, here.
It's an inky black recording from which the SCM19 extracts an enormous amount of character, the way the voice has been treated is particularly obvious but this doesn't undermine its appeal. You can hear way down into the mix and appreciate the subtlety of playing from every member of the band,
Sonically, this ATC floorstander can face down most £5-6k passive designs that require at least £2-3k of amplification to fulfil their potential. That said, some of the contenders peddle their own wellengineered tech and look more impressive than the functional ATC.
CONCLUSION: Clearly shot through with the solid engineering and acoustic expertise loved by fans of ATC around the world, the SCM19A is an important and effective addition to the company's extensive domestic lineup. Used in anger with high octane rock it will make most similarly sized passive floorstanders sound somewhat flat and loose. But it does the delicate stuff with great care and finesse as well. A better advert for properly implemented active design at a relatively sane price I've yet to hear.
LIKE: Studio-class insight and neutrality; fabulous dynamics and bass; build DISLIKE: Starkly functional appearance
WE SAY: If you really want to hear what your music collection sounds like, look no further
* * *
ATC SCM 19A: active 2-way floor stand loudspeaker, hand made in the UK
ATC's Entry Series was initially created to provide the hi-fi enthusiast a range of high performance passive loudspeakers incorporating all of the features found in ATC's professional products.
To extend the range and offer a serious step-up in performance we have developed two active models for the Entry Series: the SCM 19A (active 2-way tower) and the SCM40A (active 3-way tower).
As with ATC's other active loudspeakers this new loudspeaker shares excellent magnitude response, phase correction, improved distortion performance and greater dynamic range. In other words, much higher resolution and performance.
Why go active when our passives already sound so good?
Perfectly matched dedicated amplifiers for each frequency band
Active crossover filters with phase correction ensure accurate timbre, excellent imaging and source location
A flat magnitude response that is not changed with power input level
A 20dB improvement in intermodulation distortion
Better controlled low frequency
A greater dynamic range for the same input voltage
ATC SCM 19A Features:
9kg optimised short-coil/ long gap motor assembly
In-house, hand-wound precision flat wire coil
On-board ATC grounded source 182 watt Class A/B Bi-amplifier
Active filters and overload protection
6 year warranty
| | |
| --- | --- |
| | |
| 25mm Dual Suspension Dome Tweeter | 195mm 'SL' Super Linear Mid/Bass |
Specifications
Drivers: HF 25mm ATC Neodymium, Mid/LF 195mm ATC Super Linear
Matched Response: ±0.5dB
Frequency Response: 54Hz – 22kHz (-6dB freestanding, no room gain)
Dispersion: ±80° Coherent Horizontal, ±10° Coherent Vertical
Sensitivity: 85dB @ 1W @ 1metre
Max SPL: 108dB
Crossover Frequency: 2.5kHz
Connectors: Male XLR
Input sensitivity : 1V
Filters : 2nd Order critically damped with phase compensation
Overload Protection : Active FET momentary gain reduction
Fault Protection : DC fault protection and thermal trip. Fault indication on rear panel mounted LED
Amplifier Output: 150W LF, 32W HF
Cabinet Dimensions (HxWxD): 980 x 265 x 344 mm (spikes add 25mm to height, grill adds 34mm to depth)
Weight: 31kg
| | |
| --- | --- |
| | |
| Entry Series Brochure | Entry Series Manual |