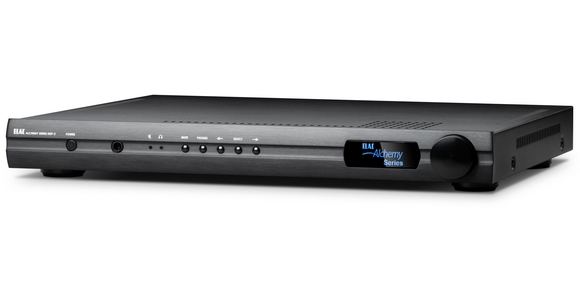 €2599
ELAC Alchemy DDP-2 Features:
Dual 32 bit/384 kHz DAC operating in digitally balanced mode
Custom-selectable DSP filter profiles • Configurable up-sampling to 384 kHz
Selectable resolution enhancement upgrades 16 bit to 24 bit, and 24 bit to 32bit
DSD up to 4X • Ultra-low phase noise Phase-Locked Loop jitter filter
MQA capable • Discovery, Spotify Connect, Bluetooth, AirPlay, Roon endpoint
High-efficiency switching power supply for digital stages
Home theater bypass mode • Fully discrete FET, with DC servo-control
Ultra-low-noise DC voltage regulators
Digitally controlled analog volume control
Toroidal transformer and linear power supply for analog stages
Ethernet port for software updates, command and control
12 V trigger with pass-through
IR control and learning
OLED Display for clear user information
iOS and Android app configuration
Alchemy transforms your listening
The Alchemy DDP-2 combines three components in one elegant piece of gear to give you the highest-quality digital-to-analog converter, preamp and digital streamer we know how to make. Then we combined it in a single chassis only 1U (1.75 inches) high. The preamplifier offers maximum flexibility, while incorporating DAC and streaming functions to make the DDP-2 the centerpiece of your digital system.
Technical Information
Digital Inputs: USB, (2) Coaxial, (2) Optical, AES/EBU, (2) I2S (Alchemy & HDMI)
Streaming Inputs: Ethernet, Bluetooth, WIFI
Supported Services: PCM, DSD, DoP, ROON endpoint, Spotify Connect, AirPlay option, MQA capable (MQA Coming Soon)
Frequency Response (Digital): 10hz-20khz +/- 0.2dB
Nominal THD+N (digital): <0.01%
Signal-to-Noise Ratio (1 kHz) (Digital):>110dB
Sample Rates: 44.1, 48. 88.2, 96, 176.4, 192, 352.8, 384KHz
Output Voltage (Digital): 7.0V RMS @0dBFs
Analog Inputs: XLR Balanced, (2) RCA Unbalanced
Input Impedance: RCA=18K, XLR=36K
Frequency Response (Analog): 10hz-20khz +/- 0.2dB
Nominal THD+N (Analog): <0.001%
Signal-To-Noise Ratio (1 kHz) (Analog): >110dB
Output Voltage (Analog): >10.0V RMS
Crosstalk (L-to-R or R-to-L): >110dB 10-1K, >80dB 1K-20K
Gain: 12dB (Input Dependent)
Output Impedance: 50 Ohms
Analog Outputs: XLR Balanced, (1) RCA Unbalanced (Fixed Gain) (1) RCA Unbalanced (Variable)
Available Finishes: Black
Dimensions (HxWxD) cm: 5.10 x 44.50 x 38 including jacks
Net Weight: 6.4 kg