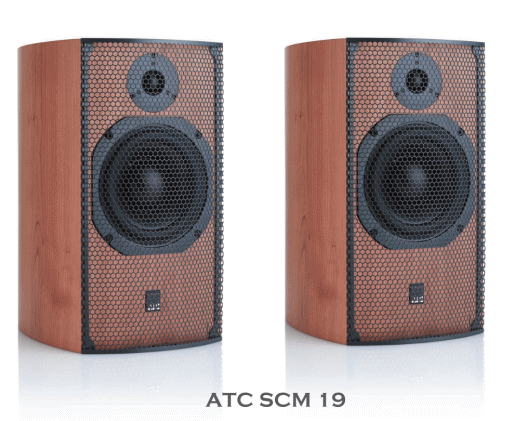 £2400
ATC SCM 19

Stereophile "Class A Recommended Components 2017"
Designed around a sealed enclosure with curved side panels, a lute-shaped cross section, and a volume of 19 liters—hence the model number—ATC's SCM19 v.2 is a two-way loudspeaker with a 1" non-hemispherical soft-dome tweeter and a 6" woofer, the 3" dustcap of which is said to function as a midrange dome; both drivers are of ATC's own design and manufacture.
Comparing the ATC to a similarly small, sealed-box loudspeaker of some renown, the classic BBC LS3/5a, JM found that the SCM19 v.2 "exhibited an arresting increase in resolving power."
JM summed up: "The SCM19 might be all the speaker most people will ever need. Well done. Highly recommended." (Vol.37 No.6 WWW)
ATC SCM 19

Stereophile "Class A Recommended Components 2016"
ATC SCM 19

Stereophile "Class A Recommended Components 2015"
ATC SCM 19

The loudspeaker offered a considerable potential for detail description and a very good behavior in dynamics towards the lower part of the spectrum, at least with most of our listening material. These sonic attributes were complemented by an extremely attractive and detailed soundstage and a well-balanced transparent mid-frequency region.
One should add the loudspeaker's excellent behavior when performing at high levels, a property that makes the SCM19 the best small loudspeaker in macrodynamics that we have listened to for some time now. With proper amplification, you can listen to quite high levels without any hint of audible compression, while the woofer suspension seems to offer an unlimited displacement potential.
Reproduction of the mid-frequency part of the audio spectrum is one of SCM19's most compelling performance attributes. Extremely lucid and revealing, without being tiresome, allows the listener to immerse into the music composition and to enjoy it. Voices are well articulated and both the feeling of presence and the timbre accuracy of the musical instruments are rendered with precision, resulting in effortless and pleasing listening sessions.
SCM19's stereo imaging is one of the best we have come across lately. The loudspeaker easily "disappears" from the listening room and gives way to a vivid and crisp soundstage with well focused individual sound sources, very good described musical instruments groups and a natural feeling of source movement and space, provided that all these are included in the recording in the first place. The listener receives a sense of closeness and the virtual stage features good depth and a well-defined width, all elements that are quite descriptive of the recording/mixing process.
Conclusion: SCM19 is, doubtless, one of the top compact loudspeakers that can be bought at the moment, in this price range, especially if one looks for a tonically-accurate and good-in-dynamics design, which respects the program material. Under these circumstances, it is an excellent choice and, most likely, will be one of the ATC's all-time classics in the future ! Highly recommended.
ATC SCM 19

What Hi-Fi Awards 2016: Best standmounter £1500+
"These ATCs are analytical yet never sound clinical or passionless. They remain transparent to the original recording and system electronics. And when it comes to insight and honesty, we haven't heard any better for the money."
"Partnered with a suitably powerful amp, the SCM19s wow you with a dynamic, detailed and rhythmic sound..."
For:

Honest and insightful sound
Impressive dynamics
Composure at higher volume levels
Crisp rhythmic drive
Rock-solid build
Impressive drive-unit engineering
ATC SCM 19

Wether you like to immerse yourself in the technology or prefer to simply focus on the music, reviewer Wes Marshall thoroughly enjoyed the loudspeakers and here is just a taster of what he thought:
"ATC's trademark effortless sound was still there in the SCM19 V2 -- but sound is the wrong word. What I heard was so effortless that I never heard a trace of the existence of a crossover and separate drivers. It was as if the term headroomhad never been coined. The small details of Flint's sad yet inviting voice shone right through, all adding up to her beautiful timbre. Nor did her faultless diction ever sound forced, and there was no exaggeration of the upper midrange. This sort of sound will entirely disarm those who still maintain that studio monitors are "too revealing."
"The ATCs did a better job of catching the naturally decaying sounds of instruments in a room than any other speakers I know of."
"Ever since I bought my first pair of ATC speakers 20 years ago, it's been my opinion that you can never go wrong with ATC. I nominate Billy Woodman for the Audio Hall of Fame."
ATC SCM 19

There's a clear sense of how large the recording venue is, the SCM19s picking up the subtle acoustic clues that allow us to perceive that size. Piano notes are delivered with solidity and finesse.
We're struck by the layers of harmonics the speakers resolve and the natural way these standmounters render the varying intensity of the keystrokes.
The leadings and trailing edges of notes are crisply defined without sounding artificially hyped. These speakers really sound right at home here, delivering a presentation that's as convincing tonally as it is spellbinding dynamically.
These ATCs are highly analytical yet never sound clinical or passionless, and are transparent to the original recording and system electronics. Buy with confidence.
For: Honest and insightful sound - Impressive dynamics - Composure at higher volume levels - Crisp rhythmic drive - Rock-solid build -Impressive drive-unit engineering
ATC SCM 19

It's an inky black recording from which the SCM19 extracts an enormous amount of character, the way the voice has been treated is particularly obvious but this doesn't undermine its appeal. You can hear way down into the mix and appreciate the subtlety of playing from every member of the band,
Piano really shows what this speaker can do. I get totally carried away with Haydn and Beethoven pieces that usually fail to keep me interested.
The SCM19 makes a good case for Billy Woodman's assertion that what's right for the studio is also best for the home. Transparency is what you want in both locales, the engineer might be listening for something different to the music lover, but they both want to hear as much as possible. In that respect this is a killer product, it tells you exactly what's going on in the mix be it good or bad. It lets you hear how Jimi or Jimmy or Jeff played the mind blowing stuff they did and that's what life should be all about.
Very revealing; superb bass and fine timing; well built
ATC SCM 19

SCM 19 is Stereophile's Editors Choice of 2014
"In addition to the musical and technical virtues of a competently executed sealed-box design, ATC's SCM19 two-way monitor (reviewed in June 2014, Vol.37 No.6) is big enough to make a major sonic impact in most listening rooms of reasonable size, and small enough not to trip over its own feet. Low distortion, zero fatigue, great looks, fair price. WNTL?"
ATC SCM 19

What is your current audio system? Right now I am listening to Bricasti's M1 DAC fed mostly from Parasound's Halo CD 1 as a transport, Nordost digital cable, Cardas Clear analog cables, ATC's P1 power amp, and ATC's sealed-box SCM19 loudspeakers, which are a huge bargain at $3700 in the US. The ATC SCM19 is a great example of really delivering the goods for a very justifiable price. The whole system sounds fabulous. - An Interview with John Marks - Positive Feedback ISSUE 74 , July/August 2014
ATC SCM 19

A good part of the 19's opulent character is attributable to the superb on-and off-axis dispersion of the mid/bass unit, i.e., its power response. I never felt head-locked in a tiny sweet spot.
The true greatness of the SCM19—and its most striking feature—is the lifelike relationship between that tonal balance and the speaker's midband and treble-range dynamic output.
In low-level resolving power, the SCM19 conveys musical intimacy like few loudspeakers of this class. When I listened to the direct-to-disc recording of classical guitarist Michael Newman [Sheffield Lab] there was a near holographic sense of the artist playing, breathing, inhabiting the listening room. It's a sensation that's eerie in its communication of speed, tonal color, timbre, and ambience. And during Grieg's Four Lyric Pieces [Sheffield Labs] the diamond-like transparency and color from the eight musicians of the Chicago Symphony Winds was breathtaking. This disc's imaging has always been pristine, but here there was substance and dimension behind each image.
As I hear it, there's a very short list of rivals that play in the league of the SCM19. And even fewer at this attainable price point. Although this review should speak for itself, let me reiterate: The ATC SCM19 is, without reservation, a superb monitor that should excite and please the most discriminating of listeners. My highest recommendation.
ATC SCM 19

The SCM 19 v.2 decisively strode ahead of the SCM 7 v.3 in seven-league boots in two areas: resolution and bass extension. The SCM 7 had no distortion that I was aware of, but the SL driver in the SCM 19 was so much more revealing that it was not funny. Hand in hand with that was much more bass impact than I ever would have imagined possible from a glance at the ATC's published specs of these speakers' - 6dB points: 60Hz for the SCM 7, yet only 54Hz for the more-than-twice-as-expensive SCM 19. That was not what it sounded or felt like.
The SCM 19 v.2 nearly best-in-class resolving power (Vivid Audio's four-time-as-expensive Oval B1 still pips it here, I think) shone on my longest-serving test track, "Easy to Love", from Ella Fitzgerald's The Cole Porter Songbook, Volume Two. The pulsing of her vibrato as the last word of the song trails off was as present and full as never before.
To sum up: ATC SCM 19 v.2 delivers bass extension, detail, fullness, and presence to such a greater extents than its smaller sibling, the SCM 7, that I consider the 2200 / pair more it costs to be more than justified. Indeed, to be so much the better value at 3699/ pair that I fear that for many listeners, buying the SCM 7 would be a false economy. The SCM 19 might be all the speaker most people will ever need. Well done. Highly recommended. John Marks - The Fifth Element #85
ATC SCM 19

It is pointless to find any tendency in the representative series of ATC. However, if I mention the tendency of sound, I can mention the intense density of the executive, the sound field, and the precise sense of location.
When you hear the sound, it is not hard at all. The spring is refreshing and fresh in the Vivaldi's four seasons, and all the songs are relaxed, clean and clear. There is no doubt that it is a reference of intermediate audio.
ATC SCM 19

"With heavyweight construction and fabulous veneer, this is a classic, studio-friendly ATC design for the home. If you want to hear the nuts and bolts of favourite discs and are prepared to cope with their shortcomings, it's nigh on unbeatable."
Very revealing of recordings and associated hardware
Lovely real wood veneer
Consummate power handling
Wide dynamic range
ATC SCM 19

"Have the muscle to deliver seismic shifts with considerable conviction."
"If you think hi-fi is about hearing whatever the source delivers, good or bad, these are for you."
An honest sound that brims with insight, dynamic and punch
Rugged build
ATC SCM 19

From the earliest moments of hearing, the feeling, when listening to the SCM19, is one of calm and homogeneity. The speaker behaves with respect to the program, creates a perfectly balanced image that is neither too far nor too near to the listener and offers great potential to questions of detail, and focus both the width and the depth of the hypothetical stage.
The middle area is distinguished for its analysis, balancing between the pleasant nature of the monitor and the restful sound and the speaker will satisfy the listeners of vocal works with the immediacy and precision in articulation, and the focus of the voices.
The SCM19 is the most complete speaker tested, on the side of the homogeneity and also seems to have a considerable potential for high levels without colouring. If you are looking for a speaker that approximates in the best possible way the "accuracy" case, is relatively small in size and has a reasonable price, your search can end here. This, clearly, for the best speaker of the test.
ATC SCM 19

What ATC speakers are all about is resolution and this cannot be achieved with a coloured balance. That mean neutrality and you need an amplifier that pulls in the same direction. If you want colour in your music look for it in the source material, and while tonally colourful hi-fi can be tremendously entertaining it can ultimately do a disservice to that music by subtly remixing it.
While I don't listen to a lot of classical music myself I do appreciate a bit of dynamic range and space alongside the all-important bone-crunching bass, and I can't help but enjoy the results I get with this speaker. The sheer girth they afford EST's Tuesday Wonderland when the double bass and piano get into a groove is a delight that few speakers which I could just about afford can deliver. If it's the sound of music you are after, forget Julie Andrews and check these out.
It also has wide dynamic range thanks to the power handling capabilities of the main driver, which means that when a loud transient comes along you are left in no doubt about it. The phrase "good power handling" can be misleading. It doesn't merely mean you can play long and loud, it also means that there is no compression of dynamic peaks. So music with wide dynamic range is revealed in all its glory from the quietest to the loudest notes.
ATC SCM 19

Top 10 hi-fi speakers by Techradar - ATC SCM19 (£1,500):
Like PMC, the ATC SCM 19 has a pro heritage and has been screwed together with a whole lot of hi-fi know-how. It contains one of ATC's legendary drive units and a plethora of high-class engineering all squeezed into one of the finest boxes around. But be warned: this is a warts-and-all speaker that won't gloss over the sound. However, for many people, it will be the closest they can get to those precious studio master tapes.

Magazine 5/2007
4 products tested
ATC SCM 19: "excellent" (5 out of 5 stars)

"Want to hear what they heard in the studio? These ATCs are the closest you'll get in this test."

Tested with: B&W 805S - Wilson Benesch Square One - Dali Mentor 2
* * *
ATC SCM 19: large passive 2-way stand mount loudspeaker, hand made in the UK
ATC was founded on a principle of engineering excellence, and that principle still defines our products today. Given the right opportunities, ATC products will deliver exceptional audio performance, but the opportunities will only arise from careful and thoughtful installation and use.
The premise on which ATC began is a simple one – and one that, in many respects, is still true today: hi-fi loudspeakers tend to be detailed and accurate, but of limited dynamic range, while professional monitor speakers tend to express the opposite character.
ATC products were designed from the outset to offer the best of both. It's an easy concept to describe, but surprisingly difficult to engineer. The difficulty inherent in designing such loudspeakers is one of scale. Hi-fi levels of accuracy and detail call for lightweight moving parts and delicate engineering. Professional monitor levels of performance, however, demand far more robust components engineered to survive the rigours of high level use for extended periods.
The only way to combine the two is through precision engineering of a class and scale more often associated with aerospace or motorsport. But the results are worth the effort and the cost. ATC loudspeakers, with their unique in-house designed drivers, combine the best of hi-fi and professional to devastating effect.
ATC SCM 19 Features:
9kg optimised short-coil/ long gap motor assembly
In-house, hand-wound precision flat wire coil
Flat impedance curve allowing easy load for amplifiers
| | |
| --- | --- |
| | |
| 25mm Dual Suspension Dome Tweeter | 195mm 'SL' Super Linear Mid/Bass |
Specifications
Drivers: HF 25mm ATC Neodymium, Mid/LF 195mm ATC Super Linear
Matched Response: ±0.5dB
Frequency Response: 54Hz – 22kHz (-6dB freestanding, no room gain)
Dispersion: ±80° Coherent Horizontal, ±10° Coherent Vertical
Sensitivity: 85dB @ 1W @ 1metre
Max SPL: 108dB
Crossover Frequency: 2.5kHz
Connectors: Binding Posts/ 4mm banana plugs, bi-wire
Recommended Amplifier Power: 75-300 Watts
Nominal Impedance: 8 ohms
Cabinet Dimensions (HxWxD): 438 x 265 x 300 mm
Weight: 17.8kg
| | | | |
| --- | --- | --- | --- |
| | | | |
| SCM 19 Brochure | SCM 19 Drawing | Entry Series Brochure | Entry Series Manual |