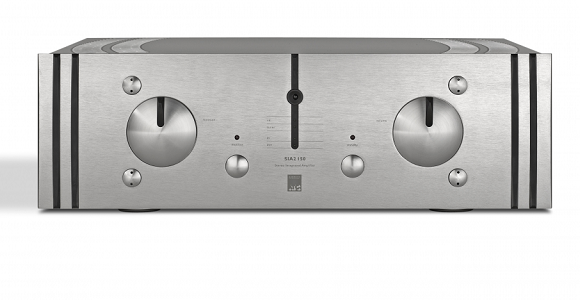 £3800
ATC SIA2-150 Mk2

SIA2-150 showed its character from the very first bars, demonstrating a remarkable drive in the performance of the soundtrack for the film "Flashdance", namely - "Maniac" by the authorship of Michael Sembello himself. It seems that the whole space is permeated with energy, hidden before that in the 1983 record, but, as it turned out a little later, this is just a translation of the emotional message hidden in the material.
It seemed to me that the amplifier is more inclined towards large musical forms, the recordings of symphonic compositions in its execution amaze the imagination with the scale of the recreated picture.
Rock concerts are listened in one breath to the "needle on the escape track". The choir recordings amaze with amazing detail and a sense of ownership.
As for the reconstruction of the stage space - it is at its best, ut to a greater extent depends on the connected speakers... With a successful selection of speakers, the picture becomes almost perfect.
ATC SIA2-150 Mk2

Stereophile "Class A Recommended Components 2013"
ATC's beefy (44 lbs) SIA2 integrated amplifier ($5000) puts out a claimed 150Wpc and is hand-built in the UK. It has five RCA inputs, but no phono stage, balanced inputs, or onboard digital capability requiring USB or S/PDIF connection; in two words, it's old school. And I love it.
The SIA2 exhibits all the virtues of a first-quality solid-state integrated amplifier.
To sum up the SIA2: excellent performance, good value for money, and a great match for ATC's SCM 40 speakers.
And Monheit's voice was just plain wonderful to listen to—the ATC is a great amplifier.
ATC SIA2-150 Mk2

First, I listened for a few minutes a Mac (n.r. McIntosh MA7000), to have a reference point, and then dived for the cabinet to change the call. The first second brought a big surprise. I had to make sure that all cables definitely hit where it should be, because the speakers flowed focused like a laser wave and strong as real absinthe energy.
If not enough power, it will be loud, but the music runs out of purity and resolution. But not here, because next to the pulsating
energy most impressive detail and precision can be heard. Every little thing is served with great care, is a separate event.
This amp plays differently than McIntosh MA7000, which in its price class (two times higher) I consider to be one of the few patterns. But I put an equal sign between them.
ATC SIA2-150 Mk2

This amp allows for a wonderfully open soundstage through which detail can shine. The choir in 160 BPM, from the Angels & Demons OST, can sound muddied and grubby through poorer amps, but the ATC opens up the track, bringing in real clarity and insight.
The amp displays great power, drive and determination as the track builds up. Not only are the edges of notes superbly defined, but there's great texture and feeling behind each one.
The ATC produces a spine-tingling connection between the listener and the music.
Sturdy design
Hugely emotive and convincing sound
Sensational timing and dynamics
ATC SIA2-150 Mk2

Its sonic signature is an unwavering midrange forthrightness and fluidity. Its neutral to warmer tonal balance allows for the most critical listening, yet doesn't cross the threshold into the starkly clinical. Musical fundamentals and overtones are expressed like continuous liquid waves of energy.
Bass response is excellent with precise pitch and plenty of slam"
Perhaps the most impressive aspect of this amp was the wide net it cast in resolving soundstaging and imaging.
Like the ATC, the Plinius throws its weight and balance where it's most appreciated—in the midrange. The key differences are the slightly drier character and tighter lower end of the 9200.
ATC SIA2-150 Mk2

Whatever you partner it with, ATC's superbly finished SIA 2-150 amplifier seems to deliver a revealing, powerful and ultimately engaging result. It offers a degree of grip that is unusual outside of separate power amplifiers, but does not let this dominate its sound.
Revealing, dynamic and powerful
Works with a wide range of speakers
Superb build quality and finish
Long manufacturer's warranty
ATC SIA2-150 Mk2

Un vrai bonheur qui sait alterner l'énergie considérable et la froide détermination d'un appareil conçu pour rester fidèle au signal, aux
nuances et à la chaleur d'un vecteur musical de premier ordre..
L'intégré ATC SIA2-150 Mk2 est un appareil remarquable de cohérence proposé à un prix tout à fait en rapport avec ses qualités. Suffisamment puissant pour amplifier un grand nombre
d'enceintes de rendement moyen, assez polyvalent pour se faire plaisir sans sacrifier la précision, il propose une solution intégrée performante à ceux qui cherchent à la fois la fidélité au signal et la musicalité d'un appareil destiné aussi bien aux audiophiles qu'aux mélomanes.

Magazine 2/2010
Place 1 out of 4
ATC SIA2-150 Mk2: "excellent" (5 out of 5 stars)

"Group Test Winner"

"For: Sturdy design; hugely emotive and convincing sound; sensational timing and dynamics.
Against: Nothing of note."

Tested with: Cyrus Pre XPd + 8 Power (pre-power) - Unison Research Preludio - NAIM NAC 152 XS + NAC 155 XS (pre-power)


Magazine 11/2008
4 products tested
ATC SIA2-150 Mk2: "excellent" (5 out of 5 stars)

At the price, What Hi-Fi felt the SIA2-150 Mk2 offered unrivalled performance, delivering a sonically neutral, clean and clear performance with enough power to drive most speakers. The remote and appearance may be a little on the minimalist side, but they get the job done and that job is done very well indeed.

Tested with: NAIM NAC 252 + NAC 250 + SuperCAP (pre-power) - Wadia 581i se - Martin Logan Vantage
* * *
ATC SIA2-150 Mk2: 150 watts per channel stereo integrated amplifier, hand built in the UK
The SIA2-150 is a high quality integrated amplifier designed to partner ATC passive monitors and other Loudspeaker systems. It incorporates five line-level stereo inputs plus headphone jack, stereo record, pre and sub outputs on RCA phono sockets and one pair of loudspeaker outputs.
Input selection is achieved via a rotary control. Output volume adjustment is achieved by a precision potentiometer. Standby is accessible from a front panel push button. Mains power is applied from a rear panel mounted switch.
The SIA2-150 incorporates the same gain reduction and loudspeaker protection circuits as used in the ATC active monitors. This ensures that even working at very high levels the amplifier is held back from clipping so improving the subjective performance and protecting the loudspeakers from damage.
All SIA2-150 functions are duplicated on the included ATC remote control handset.
ATC SIA2-150 Mk2 Features:
150 watts per channel.
Class A/B operation.
Hand built in the UK.
5 RCA inputs.
Record, sub and pre outputs.
Headphone jack.
Remote control.
6 year warranty.
Specifications
Output Power into 8 Ω: 150W
Input Sensitivity: 350mV (for 150W, 8 ohm, 1 kHz)
Input Impedance: 20k ohms
Frequency Response (-3dB): 2Hz – 400KHz
Signal to noise ratio: >100dB
Crosstalk: >90dB
THD: > 0.002%/ -95dB
Dimensions (HxWxD): 135 x 435 x 325 mm
Weight: 20kg
"The visuals were inspired by my fondness for Art Deco industrial design as expressed in the interior design of automobile dashboards of the 30s and the visual appeal of professional electronic gear of the 50s and 60s. I have tried to give the SIA2 a modern interpretation whilst retaining some of that style."
ATC founder/ designer Billy Woodman