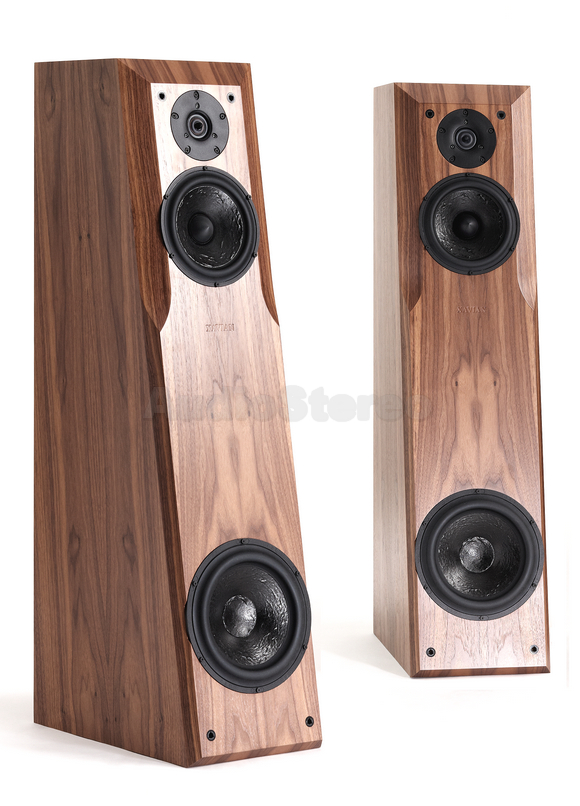 Tweeter

: Scan-Speak Ring Radiator, 26 mm voice coil, copper shortcircuiting ring, double magnet, enlarged working chamber

Midbass

: 180 mm custom Scan-Speak, paper membrane with carbon fibers, 42 mm voice coil, Symmetrical Drive (SD-1) low-distortion motor and phase plug for improved phase linearity

Bass

: 222 mm Scan-Speak, paper membrane with carbon fibers, 42 mm voice coil, Symmetrical Drive (SD-1) low-distortion motor and double magnet

Cabinet

: 22 mm MDF, handcrafted, bituminous damping, massive aluminium bass-reflex port

Terminals

: XAVIAN binding posts
XN Virtuosa
XN Virtuosa is a compact 3-ways floor standing speaker for the discerning listener.
In close collaboration with the prestigious Danish Scan-Speak drivers manufacturer, we have developed the Virtuosa´s bass and mid-bass units. These units are carefully matched together to a special made Scan-Speak "ring radiator" to create an harmonic and coherent instrument for the music. Virtuosa plays music as a true virtuos but never forgetting about heart. Because virtuosity has always to be matched also with sensibility and musicality.
We are sure that Virtuosa will be a legend for years and years.
Traditionally all the production is proudly hand-made in the Czech Republic.
Specifications
Bass frequency unit
222 mm custom made Scan-Speak, paper membrane with carbon fibers, 42 mm voice coil, Symmetrical Drive (SD-1) low-distortion motor, double magnet
Mid-bass frequency unit
180 mm custom Scan-Speak, made to Xavian specification, paper membrane with carbon fibers, 42 mm voice coil, SD-1 low-distortion motor, phase plug for improved phase linearity
High frequency unit
selected Scan-Speak Ring Radiator - 26 mm voice coil, copper shortcircuiting ring, double magnet, enlarged working chamber
System type
pure 3-ways damped bass-reflex, massive rear aluminium port
Cabinet
22 mm MDF, handcrafted, bituminous damping
Frequency response
( -3 dB on reference axis ) 30 - 30000 Hz
Connection
2 pairs of singly mounted XAVIAN binding posts/ bi-wiring, bi-amping
Nominal impedance
8 ohms
Crossover frequency
300 / 2600 Hz
Sensitivity (2,83V / 1m)
86 dB
Recommended power amplification
50 - 250 W
Dimensions (HxWxD)
1000 x 240 x 400 mm
Net weight (1 unit)
35 kg
Finishes

| | |
| --- | --- |
| cherry, maple, walnut, nero, bianco real wood | |
- Selected Scan-Speak driver
- 26 mm voice coil Ring Radiator
- Copper shortcircuiting ring
- Wave-guide center plug
- Enlarged non-reflective rear chamber
- Double magnet

- 180 mm custom Scan-Speak driver
- Paper membrane with carbon fibers
- Symmetrical Drive (SD-1) low-distortion motor
- Phase plug for improved phase linearity
- Die cast Alu Chassis

- 222 mm Scan-Speak driver
- Paper membrane with carbon fibers
- Symmetrical Drive (SD-1) low-distortion motor
- Die cast Alu Chassis
- Double magnet

Completely hand-made in-house by Xavian in Prague - extremely precise and accurate filters.

Features:
- Audio Grade high quality components
- Air wounded Inductors on all sections besides bass section (300 Hz)
- Film Capacitors on all sections
- 250V and 400V Polypropylene Film Capacitors, stable capacity, low loss. low tolerance


Cabinet technology