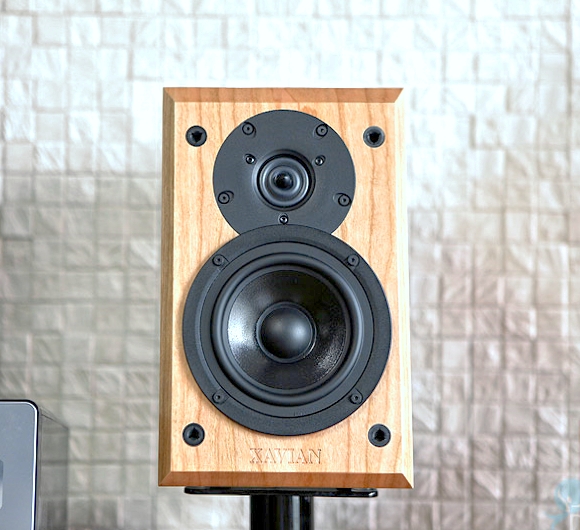 €1490
Xavian XN 125 Junior

Built quality is outstanding, with the speakers feeling more or less as if carved from stone.
The piano being played sounds just like a piano.
The speed is astonishing, the transparency is astonishing, and the sheer accuracy is astonishing.
It seems impossible that such small cabinets could generate so much "real" bass, yet they manage.
The XN 125s will re-ignate your love affair with music, no matter what it is you prefer listening to.
Xavian XN 125 Junior

Smooth treble sounded like woven with cobwebs and even retail, do not hurt your ears. Voices sounded natural, fresh and clean. We could hear a lot of noise accompanying the singing, however, were some rustling sounds without stress. However, big surprise waiting for me at the bottom of the band. Looking at the dimensions of Junior, I did not expect after their harrowing experiences, but little Xavi presented a very strong bass.
Of the dozen jazz albums in the most sticks in my memory "Kind of Blue" Davis. Small monitors played it with such energy and freshness, as if the material was recorded a few days ago, not more than half a century ago.
If you're looking for audiophile columns to listen to jazz, classic rock and quiet, just you found them. However, in terms of class performance Xavi smallest child should stand as a model in Sevres audiophile minimonitora, next to metro liters and kilograms.
Xavian XN 125 Junior

... appointed by rich color and finesse, the characteristic for Czech speakers. To whom so addressed these exquisite displays of mid-range? Above all the lovers of saturated color, as well as to those who seek small compact columns, with listening where you can relax for hours.
The deeper bass than previous models, cultural and resonant transmission treble, excellent space. homogeneous sound in the whole band
Sounds of the rich color and high culture, and lamp perfect smoothness execution boxes
Tweeter

: Scan-Speak Ring Radiator, 26 mm voice coil, copper shortcircuiting ring

Midbass

: 150 mm Scan-Speak custom, Die-cast Aluminum chassis vented below spider, impregnated paper membrane, soft dust cap, shortcircuiting ring in the motor

Cabinet

: 22 mm MDF, handcrafted, massive aluminium bass-reflex port

Terminals

: XAVIAN binding posts
XN 125 Junior
Culmination of the legend called XN 125
XN 125 has been produced since 1997. The new XN 125 Junior is the definitive culmination of this concept. New special custom made mid-woofer unit Scan-Speak 15W/XAVIAN together with the well known Scan-Speak "ring radiator" create an harmonic and coherent duet.
It´s a true pleasure to listen to this small, precious and musical speaker!
Dedicated stands:
Specifications

Mid-bass frequency unit

150 mm special custom Scan-Speak, made to Xavian specifications - die-cast Aluminum chassis, vented below spider - impregnated paper membrane - soft dust cap - shortcircuiting ring in the motor

High frequency unit

selected Scan-Speak Ring Radiator - 26 mm voice coil, copper shortcircuiting ring - non-reflective rear chamber
- wave-guide center plug

System type

2 ways damped bass-reflex, massive rear aluminium port

Cabinet

22 mm MDF, handcrafted, bituminous damping

Frequency response

(-3 dB on reference axis): 49 - 30000 Hz

Connection

1 pair of singly mounted XAVIAN binding posts

Nominal impedance

4 ohms

Crossover frequency

2600 Hz

Sensitivity ( 2,83V / 1m)

86 dB

Recommended power amplification

30 - 120 W

Dimensions (HxWxD)

285 x 180 x 275 mm

Net weight (1 unit)

8 kg
Finishes

| | |
| --- | --- |
| cherry, maple, walnut, nero, bianco real wood | |
Selected Scan-Speak Ring Radiator:

- 26 mm voice coil, copper shortcircuiting ring
- Non-reflective rear chamber
- Wave-guide center plug

150 mm special custom Scan-Speak, made to Xavian specifications:

- Impregnated paper membrane, soft dust cap
- Shortcircuiting ring in the motor
- Die-cast Aluminum chassis, vented below spider


Completely hand-made in-house by Xavian in Prague - extremely precise and accurate filters.

Features:
- Audio Grade high quality components
- Air wounded Inductors on all sections
- Film Capacitors on all sections
- 250V Polypropylene Film Capacitors, stable capacity, low loss. low tolerance

Cabinet technology