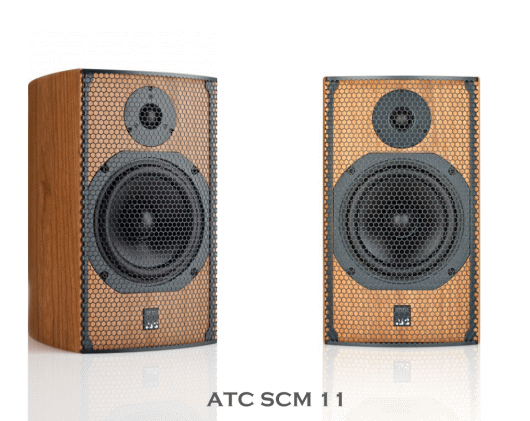 £1520
ATC SCM 11, SIA-100, CD2

The ATC Compact Audio System offers exceptionally high quality and performance.
SCM 11: Exceptional speakers hold their own against far more expensive. Kudos to the SCM11 speakers for their poise, detail, and excellent pitch definition.
SIA2-100: Integrated amp is more powerful than its 100-watt rating indicates. Exceptionally cool operation.
CD2: Very sweet and detailed sounding CD playback.
Premium construction and exceptional sound justify the system for use in smaller to moderately-large rooms or for the consumer wanting higher than average quality. This is not a typical "lifestyle" system.
The ATC Compact Audio System excelled with this music without even breaking a sweat, and at volumes significantly higher than my normal listening levels.
Surprising bass even in a larger room.
The midrange-weighted sound of acoustic guitars doesn't challenge the deep bass or high treble of a stereo the way that more complex music might, but if a system can't get the midrange right, the rest of the frequency spectrum is academic. The ATC Compact Audio System gets the midrange right!
The ATC Compact Audio System is a very high-quality system that should satisfy for decades and decades to come. You get what you're paying for with this system, and if you can afford it, I recommend the ATC Compact Audio System without reservation for small to medium-sized rooms.
ATC SCM 11

SCM 11:

Sound level: 89%

Value for money: "excellent"

Universal and really good. The ATC is an excellent compact speaker with both pronounced audiophile as well as dynamic skills... She is appealing to long listening sessions and has no special musical preferences. She takes what comes and does damn much of it. An affordable one Allrounder from Great Britain. Well done!

"The current version of the ATC SCM 11 is the passive version of the SCM 16A studio monitor and an all-rounder that offers balanced, audiophile sound characteristics with a slightly dark, full-tilted high fun factor."
ATC SCM 11

What Hi-Fi Awards 2017: Best standmounter £1200-£2000
"These speakers manage to knit everything into a cohesive, musical whole"
This is the 11th year the SCM11 has won a What Hi-Fi Award, winning in 2006, 2007, 2008, 2009, 2010, 2011, 2013, 2014, 2015, 2016 and 2017, making it the most consistently successful speaker design in What Hi-Fi award history.
ATC SCM 11

What Hi-Fi Awards 2016: Best standmounter £800-£1200
"It's hard not to be totally enamoured by the ATC SCM11s. For the money, they seem to do everything right – and their solid curved cabinets look the part too. When it comes to speakers, or even hi-fi kit in general, there are few better ways to spend £1200."
"ATC has struck gold again. These are the most talented standmounters anywhere near this price."
For:

Fine rhythmic drive
Agile and precise
Clean, neutral balance
Subtle dynamics
Hugely transparent
ATC SCM 11

Venerable veteran designer and reviewer Martin Colloms has reviewed the SCM11 in the latest edition of HIFICRITIC and awarded it a 'Best Buy' accolade:

It sounded substantially evenhanded on both rock and classical music, with clean and clear singing voices... Voices sounded clear and focused
Percussion was a particular forte, keeping the differentiation of instrumental sounds very clear, coupled with explosive mid-bass dynamics.
They sounded quite uncanny on rock and pop material, in part because so very few competing designs in this price bracket really get to grips with the beat. Here bass, midrange and treble regions drive in unison with almost no aural confusion; it's a foot-tapper's delight
If you think that this reads like a positive review, then you would be right. Not only does the ATC SCM11 reach beyond its class for sound quality but it does so through exceptional engineering, and shows seriously good taste in balancing the frequency response. Although it's not perfectly neutral in the midrange, the listener is mightily rewarded with enthusiastic musical drive, great dynamics, very good clarity and detail and exceptional bass rhythms. Build quality is first class, and the lab report would grace a design at five times the price. It proved easy to fine-tune its location in the listening room, and is also an easy amplifier load. The ATC SCM11 is a clear winner and readily achieves a HIFICRITIC Best Buy accolade.
ATC SCM 11
ATC SCM 11

EAR and ATC products often abounded, but this is not an exception. This integrated matching is a pleasure of resolution and fresh sound.
In addition, the sound field is a large-sized, clear, heavy, resilient and clean sound floor, and many other charms, but considering the price, it is equivalent to three times higher than the level.
ATC SIACD & SCM 11

ATC is rarefied audio; only 50 per cent of its production is for consumers, and 80 per cent of that is exported. Oddly, though, ATC equipment is not that expensive – it is knowing it exists that's the clever bit.
Founded in 1974 by Australian jazz-pianist and engineer Billy Woodman, ATC is seriously old school. Its philosophy is one of "neutral fidelity", based on the belief that hifi equipment shouldn't colour the original studio sound.
You can hear the attention to detail. Listening to the SCM11 speakers, the astonishing clarity, separation and bass heft quite knocked me over.
"It's the first time I've heard those tracks properly since 1995," she said. "It's like being back in the studio." Which is, of course, exactly what ATC had in mind.
ATC SCM 11

The ATC's are a solidly built real wood veneered 'stylishly classic' speaker which embodies a solid listen. Their strongly braced infinite baffle construction allows for their representation of the music to be truly outstanding, they give insight into the most intricate of tracks or can relaxingly and effortlessly flow with less busier material.
The ATC SCM11 are at the absolute top of their class and you really would have to spend much more to even be able to stand up confidently against these awesome little speakers let alone better them.
Recommended for being the most insightful, engrossing, fast, fun and accurate speaker to have ever graced its price range.
Bass guitar and kick drum produce a pounding rhythmic beat that is weighty, propelling and perfectly timed, while the snare drum has that fast rise time explosive "crack" and the following drum shell sounds included too which I feel is essential for true hi-fi sound.
I could easily live with the lithe dynamics, the outright faithful treble resolution, the midrange tonal accuracy of these speakers and oddly enough, I could easily live with that roll off in the lower bass registers as well, because the fast, taut, communicative and powerful bass that they do produce, more than compensates in that area.
Recommended for: Tonal accuracy, fast and lithe dynamics and taut powerful bass. At the price there are very few if any rivals.
ATC SCM 11

Best standmounter £800-£1200, Awards 2014
"The new SCM11s are a drastic improvement over an already talented performance, and they have the good looks to match. ATC has raised the bar it set itself. This isn't just a step up – it's a running leap."
ATC SCM 11

Best standmounter £800-£1500, Awards 2013
ATC has struck gold again. These are the most talented standmounters anywhere near this price
These speakers manage to knit everything into a cohesive, musical whole.
The whole frequency range is superbly controlled. Nothing we did could wrong-foot these speakers, which remain composed no matter how hard we pushed.
And the trait we like the most about the original SCM11s – their natural, balanced sound – is here, too. Whatever we feed the speakers, the sound comes out uncoloured and uncorrupted.
ATC SCM 11

"It's ultimately that sense of clarity and transparency that makes these speakers so intriguing; it's like staring at something either incredibly beautiful or profane that you almost feel guilty looking at but just can't turn away from!"
"They have a way of laying bare the essence of a musical performance or recording through sheer lack of editorializing."
"Absolute truth or enhanced beauty? Only you can (and should) decide... But if truth is your goal, I haven't experienced a better speaker to provide it than the Version 2 of ATC's SCM 11."
ATC SCM 11

"This is a reflection of how effortlessly revealing the SCM11 is..."
"This speaker is capable of communicating the message in the music to a greater degree than virtually all the competition at the price… I suggest that you listen to a pair of ATCs, if it's this pair all the better because you'll struggle to find more musical thrill power for your money elsewhere."
ATC SCM 11

"Class B (Restricted LF) Recommended Components 2013"
The ATC SCM 11 is a fully-ready-for-prime-time loudspeaker with excellent resolution and dynamics, etc., but, even more important, the ability to create musical involvement. I intended to listen to just one track's worth of Gregorian chant from Consortium Vocale Oslo's Exaudium Eum (SACD, 2L 2L43SACD), and ended up listening to the whole thing. What more can I say? What I can't say is whether the SCM 11 will be the ideal speaker for you.
Compared to the Aerial Acoustics Model 5B, the SCM 11 provided similarly well-controlled bass, but had a more articulate upper midrange, slightly wider soundstage, and better dynamics. (Vol.32 No.12)
ATC SCM 11

"Class B (Restricted LF) Recommended Components 2012"
ATC SCM 11

The sound has a thick consistency, and the bass rumblings are firmly and clearly marked. It makes no room for any coloration. We are dealing here with a surprisingly stable bass given the dimensions of the speakers.
The sound is all the time a very neutral, yet very spontaneous.
I like this brand, I like the sound. It is a studio element, characteristic grain known for expensive, high-end devices. This dynamic, this eager spontaneity, and this detail and pitch-diameter. I hope for more such speakers.
ATC SCM 11

"None of the competitors are able to convey the sound of instruments in the 6th symphonies of Mahler with such precise accuracy or untangle the complicated maze of music by Radiohead Electioneering in such a casual ease. That is, in general, that's all. This is truly a great speaker. Do not buy anything for the money without trying first SCM 11. Dynamic and detailed, allowing ATC to reveal all its wort.
ATC SCM 11

"If you can call transparency, detail and dynamics a house sound, the SCM11s are ATC all the way. It's easy to think upon first listen that ATCs are tilted towards higher frequencies and a little lean-sounding, but this is largely a trick of their transparency and accuracy. There's no mid-bass bloat or overhang, and no coloration that passes for warmth. They also fill out over time -- as I've found with the 20-2s, bass response improved after 100 hours or so of use."
"Can you name another company that manufactures its own drivers, amps, and preamps, creates custom designs for large installations and is a fixture in mixing studios throughout the world? Whether active or passive, you're buying into unique engineering prowess if you go ATC." ( Robert Learner Reviews the ATC SCM 11s )
ATC SCM 11

The ATC SCM11 punishes prejudices about closed cabinet and it offers excellent 104 dB maximum SPL and 46 Hz draft.
If I had to choose (between PMC DB1 i, KEF Q 300, Klipsch RB-81 II), I would personally take ATC: Rarely, the precision of a monitor and the vocal beauty of a high-end speakers were united so perfectly.
Outstanding acoustic transparency of the small monitor: No matter with which music genre you confronted them: their impressively neutral and sensational natural resolution ran like a red thread through the hearing test.
In the bass, the ATC is just mainly on precision.
Measurements: Balanced, slightly sloping towards higher frequencies, very low distortion even in the bass
ATC SCM 11

"A very fine little speaker that's at its best with good, natural recordings where it adds little and reveals much"
Very high levels of detail
Admirably neutral tonality
Surprisingly extended in the bass
Good imaging
ATC SCM 11

"There's a lot of detail there, but we weren't entirely prepared for the amount the SCM11s revealed. Nor were we at all expecting the bass drum to have so much weight."
"Piano possessed considerable weight, but also great clarity and definition, and even scale. In recordings of voice and piano both retained their individual character and avoided getting in each other's way"
Very high levels of detail and admirably neutral tonality, open in the treble and surprisingly extended in the bass. Good imaging too.
ATC SCM 11

Despite the extremely low sensitivity, the playback is completely devoid of dynamic compression. The transition from the track, where the delicate piano sounded on the track, when already has a drum set, each time striking dynamic contrast ratio.
The ATC acoustics easily transfers such murderous dose of power while maintaining high intelligibility and naturalness of the harmonic sound.
They totally let go of the sound itself, there is no hint of binding. The scene a little wider and deeper than that of the other speakers, and focuses so clearly that it is possible to distinguish even the voices of the choir, recorded in the temple with a high arches (in such phonograms usually dominates the reflected sound).
ATC SCM 11

Interestingly midbass driver implementing CLD technology to suppress the third harmonic in the midrange. Protective cap is designed as a soft dome with a diameter of 45 mm (reminds of a dome midrange transducer). The voice coil is wound flat OFC wire. Massive magnetic system theme is optimized for linear operation with a large amplitude of the moving system.
Acoustics has a massive sound with warm and, I would say, too dark tonal balance.
Mids encouraging human, rich tone.
Bass here, or rather midbass, this leads to the leadership of acoustics in the category of "big sound from small speakers."
Response model is quite flat, though the mids are gentle decline with the center in the region of 2-3 kHz. The top as well decently swamped.
The lower frequency limit of 50 Hz. This is a super figure in view of the closed design! As CED, the distortion level is below 1% up to 40 Hz, after which it begins to rise sharply. Very low THD in the midrange speakers.

Magazine 7/2012
ATC SCM 11: "stunning all-rounder" (5 out of 5 stars)

"Hugely rewarding and talented speakers, with many well-deserved awards."


Magazine 10/2011

ATC SCM 11: Sound Quality: 73%

The most notable aspect of the ATC SCM 11 is its low colouration and high tonal neutrality, says Hi-Fi News, who describe its sound as being an acquired taste. They also noticed that it was the least efficient speaker in their test group when it came to converting volts into sound pressure. Hence, they recommend pairing it with a powerful amp if you're hoping to play loud music.


Magazine 9/2010
ATC SCM 11: "excellent" (5 out of 5 stars)

"... It's simply and almost solely the strength of the EB2s that hurts the SCM11s ... if you're shopping on your local high street, the ATC SCM11 speakers remain the best - and still hugely satisfying."


Magazine 6/2009
Place 1 out of 6
ATC SCM 11: "excellent" (5 out of 5 stars)

"Group Test Winner"

Some might describe them as ugly, but in the last couple of years no other speaker has given such accomplished and inspired performance. ATC's SCM11 speakers win this Group Test for their natural and beautiful sound. Their only limitation is partnership with a comparable amp.

Tested with: Roksan Kandy TR-5 - B&W CM5 - Ruark Audio Sabre III - Spendor S3/5R - Dynaudio DM 2/10


Magazine 11/2008
Place 1 out of 6
ATC SCM 11: "excellent" (5 out of 5 stars)

"Group Test Winner"

Although their looks may be divisive, they deliver a clear and detailed performance, leaving no stone unturned in representing every instrument and tone. What Hi-Fi warns that they'll need a powerful amp to get the best out of them but these are some of the most honest and transparent speakers out there at this price.

Tested with: B&W 684 - Dynaudio Excite X16 - KEF iQ70 - Mordaunt-Short Mezzo 6 - Tannoy Revolution Signature DC6T


Magazine 2/2008
Place 1 out of 6
ATC SCM 11: "excellent" (5 out of 5 stars)

"Group Test Winner"

"Though it may sound like a cliché, honesty really is the best policy, and none are better at it than the SCM11s."

Tested with: Neat Acoustics Motive 2 - Monitor Audio RS8 - Jamo C803 - Wharfedale Opus2-M1


Magazine 11/2006
Place 1 out of 4
ATC SCM 11: "excellent" (5 out of 5 stars)

"Group Test Winner"

"The ATCs set a sky-high standard for the rest of this group to try and match."

Tested with: Dynaudio Focus 110 - Triangle Altea Esw - Acoustic Energy AE1 Classic


Magazine 5/2011
Place 1 out of 4

ATC SCM 11: Sound rating: 83 points

Price / performance: "very good"

"Plus: Very neutral, high-resolution, yet silky box with more room illumination and dry bass."

Tested with: PMC DB1i - Klipsch RB 81 Mk2 - KEF Q300
* * *
ATC SCM 11: medium passive 2-way stand mount loudspeaker, hand made in the UK
ATC was founded on a principle of engineering excellence, and that principle still defines our products today. Given the right opportunities, ATC products will deliver exceptional audio performance, but the opportunities will only arise from careful and thoughtful installation and use.
The premise on which ATC began is a simple one – and one that, in many respects, is still true today: hi-fi loudspeakers tend to be detailed and accurate, but of limited dynamic range, while professional monitor speakers tend to express the opposite character.
ATC products were designed from the outset to offer the best of both. It's an easy concept to describe, but surprisingly difficult to engineer. The difficulty inherent in designing such loudspeakers is one of scale. Hi-fi levels of accuracy and detail call for lightweight moving parts and delicate engineering. Professional monitor levels of performance, however, demand far more robust components engineered to survive the rigours of high level use for extended periods.
The only way to combine the two is through precision engineering of a class and scale more often associated with aerospace or motorsport. But the results are worth the effort and the cost. ATC loudspeakers, with their unique in-house designed drivers, combine the best of hi-fi and professional to devastating effect.
ATC SCM 11 Features:
In-house, hand-wound precision flat wire coil
Precision undercut bass pole
Massive optimised motor assembly
Flat impedance curve allowing easy load for amplifiers
6 year warranty
| | |
| --- | --- |
| | |
| 25mm Dual Suspension Dome Tweeter | 195mm CLD Mid/Bass |
Specifications
Drivers: HF 25mm ATC Neodymium, Mid/LF 195mm ATC CLD
Matched Response: ±0.5dB
Frequency Response: 56Hz – 22kHz (-6dB freestanding, no room gain)
Dispersion: ±80° Coherent Horizontal, ±10° Coherent Vertical
Sensitivity: 85dB @ 1W @ 1metre
Max SPL: 108dB
Crossover Frequency: 2.2kHz
Connectors : Binding Posts/ 4mm Plugs, bi-wire
Recommended Amplifier Power: 75-300 Watts
Nominal Impedance: 8 ohms
Cabinet Dimensions (HxWxD): 381 x 232 x 236 mm
Weight: 10.9kg
| | | | |
| --- | --- | --- | --- |
| | | | |
| SCM 11 Brochure | SCM 11 Drawing | Entry Series Brochure | Entry Series Manual |