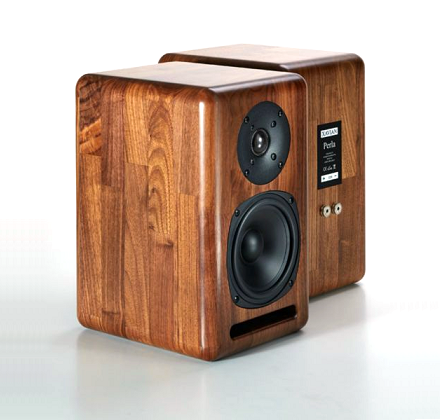 na
XAVIAN Perla

Soon: The new issue of Czech magazine Stereo & Video brings you the test of Perla speaker.

XAVIAN Perla

Perla is well able to put together a compelling context, can stratify recording. Mainly, however, can music really excellent to connect the dots, everything is an airborne unit which can be effortlessly "pass".
Actually, draws instrument so well that you want more and more and more, you want to be even closer to reality.
Their pleasant, musical character delivers music tranquility and sweetness. Pearls also managed to capture the intimacy of the recordings, wanted to turn off the lights and just listen.
They have magical recitation, which is simply a joy to listen to and can build a strong atmosphere.
In smaller areas of them will blow your mind, that we guarantee.
That Xavian Perla play very well, that's a fact. It will be up to this incredibly well measured in real space, it is definitely above expectations. That composure above the 100 Hz is simply excellent. From the small enclosure and in a large area, you will hear 55 Hz declared in almost full force.
+ Fantastically valuable processing
+ Incredibly quiet, smooth sound
+ Prize that goes against all
+ Can go pretty deep
+ Overall imagery of recitation

XAVIAN Perla
"Naturalness lasts all in all." Hippocrates.
Perla begins a new series of XAVIAN speakers called Natura - naturalness in Italian. We chose this name because we believe that naturalness is the basis for music reproduction. Creating Perla we can prove that we can do the impossible.
Perla is a compact two-ways speaker with front bass-reflex. The cabinet is made of solid Italian walnut with a structure that we call "mosaic". The magic of Perla catches you at glance: just admire and touch her. Fascination becomes euphoria when she starts playing music. Sophisticated FaseZero (no phase shifting) series crossover, selected components, simple installation and an exclusive appearance create a recipe that you can not resist.
Astonishing coherence in the middle range, high sensitivity of 87 dB, uncommon magic atmosphere.
Specifications
Mid-bass frequency unit
150 mm special custom XAVIAN, made to Xavian specifications - special polypropylene membrane - soft dust cap - moulded basket
High frequency unit
special custom XAVIAN - 26 mm voice coil, copper shortcircuiting ring, no ferrofluid
System type
2 ways damped bass-reflex, bass-reflex front port
Corpus
Italian solid "mosaic" walnut
Frequency response
(-3 dB on reference axis): 55 - 20000 Hz
Connection
1 pair of singly mounted XAVIAN binding posts
Nominal impedance
8 ohms
Crossover frequency
3000 Hz
Sensitivity (2,83V/1m)
88 dB
Recommended power amplification
30 - 120 W
Dimensions (HxWxD)
315 x 190 x 236 mm
Net weight (1 unit)
6,9 kg
Finishes

| | |
| --- | --- |
| solid mosaic walnut cabinet | |
25 mm selected XAVIAN soft dome design:

- Impregnated fabric soft dome
- Copper shortcircuiting ring
- Wide angle dispersion design
- Die-cast Aluminum faceplate
- No ferrofluid

150 mm special custom XAVIAN, made to Xavian specifications:

- Special polypropylene membrane
- Soft dust cap
- Shortcircuiting ring in the motor
- Die-cast Aluminum chassis, vented below spider


The beauty of Perla is not only outside!

The geometry of air-wounded coils is choosen to avoid interferences. High precision, high speed polypropylene capacitors made to our specifications: completely hand-made in-house by Xavian in the beautiful Prague.

Features:
- FaseZero (no phase shifting) series crossover
- Audio Grade high quality components
- Air wounded Inductors on all sections
- Film Capacitors on all sections
- 400V Polypropylene Film Capacitors, stable capacity, low loss. low tolerance