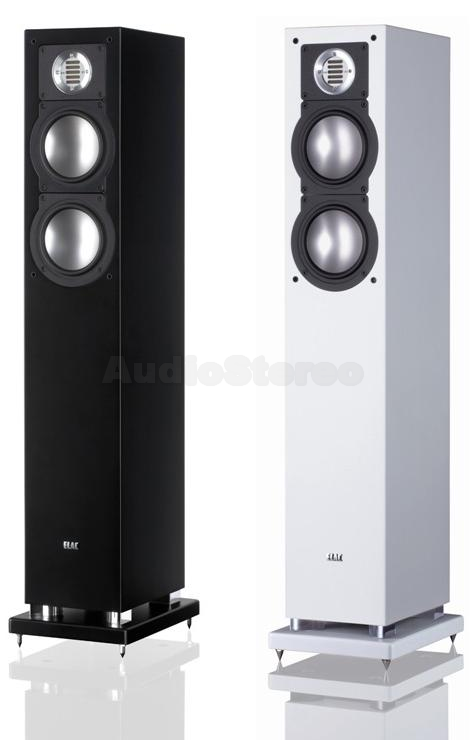 €1700

TT140AS

: doua difuzoare midbass cu membrane sandwich hartie-aluminiu

JET III: tweeter cu tehnologie Air-Motion-Transformer (folded foil)

DC ring

(JET Dispersion Control)

:

inel pentru controlul dispersiei ce se monteaza in jurul tweeterului JET (accesoriu optional)
FS 187 Slim speaker with maximum sound

You have to hear it and touch it, because it is simply so beautiful and unostentatious. The Kiel-based company has certainly hit the bull's-eye with the distinct styling of the new 180 series. The design is simple, elegant and timeless; the speakers are utilitarian and at the same time even affordable.

This slender beauty works like her big sister, the FS 189, also using "down firing". That means each FS 187 is equipped with 2 bass ports. One emits sound toward the back, the other downwards onto the base plate. The effect of the actual lengthening of the base port is deeper bass tuning. This arrangement also works as an acoustic low-pass filter. The rear projection bass port comes closed off with a bass control plug. By removing it, bass reproduction can be intensified.
Specifications

Dimensions H × W × D

Weight

15 kg

Principle

2½-ways, bass reflex

Woofers
Bass Ports

Tweeter

Recom. Amplifier Power
at Nominal Impedance

20-200 W / channel

Crossover Frequencies

700 / 2,700 Hz

Sensitivity

88 dB / 2.83 V / 1 m

Nominal Impedance
suitable for amplifiers (from ... to)

6 Ω
4 ... 8 Ω

Minimum Impedance

5 Ω at 220 Hz

Frequency Range
acc. to IEC 268-5

36 ··· 50,000 Hz

Nominal / Peak Power Handling

90 / 130 W
Finishes

black ash decor (high gloss baffle)
cherry decor (black painted, soft-finish baffle)
The folded foil membrane arrangement in the world famous JET-tweeter is driven by a powerful neodymium magnet system. it plays effortlessly anf free from resonance, breezy and transparent up to 50,000 Hz and is, with its maximum linear frequency response, especially suited to sound reproduction of DV-A and SACD formats.

The ELAC "JET Dispersion Control DC" is a flat ring made of open-cell rubber foam which is mounted around the JET orifice with four clasps (or with adhesive tape).

The JET DC results in a broadband reduction of about 0.5 dB of the radiated sound level nearly independent of frequency. The JET DC is best suited for rooms with little sound absorption at high frequencies, especially for rooms with large windows without curtains or with a smooth floor without a carpet.


Note: The loudspeakers of the 180 series are not supplied with the JET Dispersion Control - this is an optional accessory.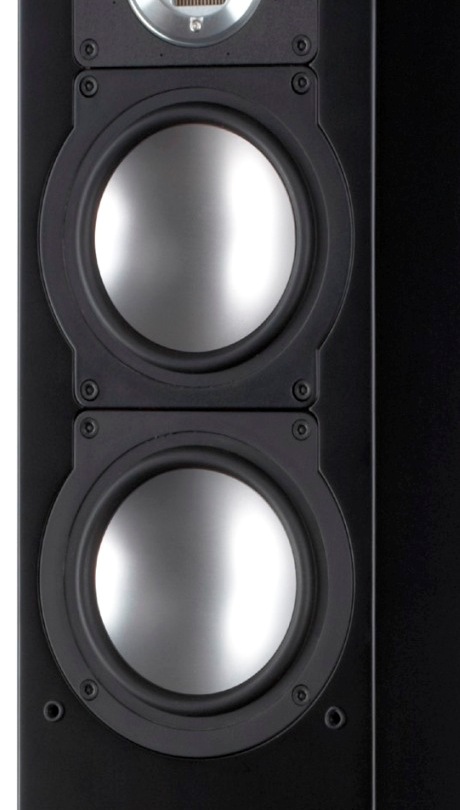 TT 140 AS midbass used in CC 181 and FS 187
Extremely deep bass, low coloration and accurate sound reproduction are achieved with ELAC's aluminium sandwich membrane woofers. An ELAC specialty: during a special gluing procedure a 0.2 mm thick aluminium layer is combined with a cellulose cone forming the sandwich membrane. This membrane technology results in an extremely stiff membrane that eliminates partial vibrations.