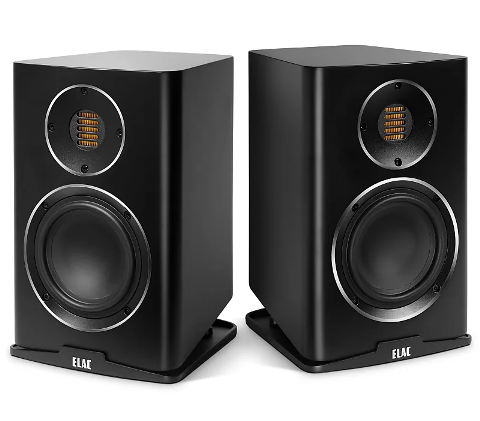 €840
ELAC Carina BS 243.4

It was obvious: the Elac BS243.4s could resolve supermicro information better than any speaker I know in its price range. The choir appeared as genuine little heads with faces and moving mouths, the sound of each singer unique and distinct.
In a confession booth or while handling snakes by a pulpit, I'd have to swear: Elac's new Carina BS243.4 loudspeaker sounded more refined than any similarly priced loudspeaker I know of. Mainly, though, the stand-mounted Elac's greatest virtue is its supersmooth octave-to-octave balance. Throughout my review process, the word elegant kept forcing itself on me. Bravo, Andrew and Elac!
ELAC Carina BS 243.4

Even though the Carina has a more upfront presentation, soundstaging and imaging were well above average for this class of compact. During Vaughn-Williams Wasps Overture, there was good if not standard-setting orchestral depth. Layering of string and wind sections was naturalistic, but Carina doesn't exaggerate spatial details with a recessiveness that can create a false sense of dimension. In soundstaging it has a more straightforward monitor-like signature.
In exchange for a small footprint and ease of placement, compact two-way monitors like the Carina BS243.4 engage in a complex dance that balances sonics with convenience.
Elac's Carina ably demonstrated that it indeed possesses that sonic magic. On a scale of sheer musicality and value, it rates very high in my book.
ELAC Carina BS 243.4

They deliver room-filling sound with even 20 watts per channel and are easily driven by tube amplification as well as solid-state. The JET AMT tweeter is very smooth and does not need a tube amplifier to tame it.
The strength of these speakers is the high level of musical information they reveal, for their minimal cost. It's exciting to see several truly great speakers that are in reach of any music lover. The ELAC Carinas are certainly at the top of our list.
Andrew Jones' sterling reputation is once again upheld with the ELAC Carinas. These are fantastic speakers.
ELAC Carina BS 243.4

String stops on the bass can be heard via the Elacs before other speakers have noticed what is going on. In fact, compared to my time-honored English floor-standing speakers, the chic compact speakers play so dynamically and quickly that I wondered during the first page of the record whether the turntable may be running too fast.
This bookshelf loudspeaker is a very hot recommendation for discerning music lovers who have little space for speakers but who require a realistic spatial representation, richness of detail and temperament from their new sound transducers, such as the rustling of the sheet of music when turning the page. The BS243.4 makes exactly that possible, without dissecting the sound or making it appear sterile in any way.
Optics and technology merge into a committed unit. Even a look at the technology, especially the magnetostatic JET tweeter, is part of the design concept here. This AMT is also responsible for the airy, detailed and agile sound of these delicate bookshelf speakers. The woofer enthroned underneath is in no way inferior to its play partner in terms of agility and joy. Thanks to it, the playback range is effectively expanded downwards without the bass range being overpowering or overbearing.
Advantages:

+ chic design
+ excellent workmanship
+ flexible installation options
+ bi-wire connection panel
+ realistic room layout
+ punchy basic tone
+ effective bass tuning
ELAC Carina BS 243.4

After my several days of constant irrigation through the various music epochs and genres, I can only come to one result: The ELAC BS 243.4 not only look chic and are of high quality, they also sound as good as they look. In any position, at any volume, whether elaborate orchestral pieces, quiet ballads or dynamic rock or electronic music, the compact representatives showed their best side.
Above all, the richness of detail is stuck, which is not annoying at all, rather the ELAC have the ability to link them harmoniously and present them in a very harmonious sound image. But also the bass range is surprisingly powerful and crisp in the tunin.
After the consistently positive lines, it should be easy to guess what result we have come to. The smaller model BS 243.4 can also delight and complements the Carina series with an elegant, very compact loudspeaker. In addition, there is a high-quality workmanship, which is not necessarily common in this price range and is excellent for the speaker.
Compound Curvature Aluminum Woofer : large diameter voice coil and over-sized vented pole piece magnet woofer for remarkable bass dynamics and a rich powerful performance

JET : Folded Air-Motion-Transformer

Tweeter
The Carina Bookshelf Speakers
Building upon its performance, Carina continues ELAC's tradition of utilizing the JET tweeter, chosen for its amazing clarity, dynamics and attack. To match this capability, a new in-house developed proprietary compound curvature aluminum coned woofer is seamlessly blended via a sophisticated multi-element xover to produce an organic life like sound experience. Fresh looks, fresh sound; the new Carina is destined to further enhance ELACs class leading reputation.

Specifications

Dimensions H × W × D

Weight

6,7 kg

Principle

2-ways, bass reflex

Woofer

Tweeter

1 × JET folded ribbon

Recom. Amplifier Power
at Nominal Impedance

30-150 W / channel

Crossover Frequency

2,700 Hz

Sensitivity

85 dB / 2.83 V / 1 m

Nominal Impedance

6 Ohm


Minimum Impedance

4.8 Ohm

Frequency Range
acc. to IEC 268-5

46··· 30,000 Hz

Peak Power Handling

100 W
| | |
| --- | --- |
| Finishes | Satin Black, Satin White |
JET Folded Air-Motion-Transformer

Delivering true high-definition sound, ELAC's JET tweeters enthrall with its lightning-fast response and wide dynamic range, offering minimal distortion, lots of headroom and a wider frequency range. The ELAC JET tweeter is one of the most legendary tweeters in the industry and has won international praise with its transparent and effortless sound image.
Compound Curvature Aluminum Woofer

To match the capabilities of the JET tweeter and guarantee a seamless transition from the woofer to the JET tweeter, the compound curvature cone has been developed to control the cone breakup and move it well beyond the operating range of the woofer. A large diameter voice coil and over-sized vented pole piece magnet combine to give remarkable bass dynamics and a rich powerful performance.
Downward Firing Port

For a more flexible speaker placement and to minimize ventilation noise, the bass reflex port on the Carina series is directed to the floor, exiting the bottom of the speaker cabinet in a down-firing configuration.