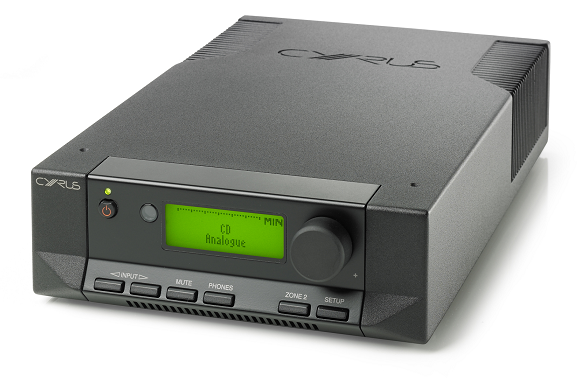 £
775
Cyrus 6a

Precise; remarkable clarity; detailed, spacious performance
The trademark characteristics of Cyrus amp are immediately apparent. Songs across a variety of genres are packed with detail, with remarkable clarity throughout the vocals and midrange, a satisfying bass response and a spacious, organised presentation that allows all layers of the song to shine and be heard.
Take a listen to Kate Bush's This Woman's Work, and the 6a shows off an excellent handling of dynamics, drawing out each of the pulsing tones.
Where other amps with such precision can be in danger of sounding a bit disjointed, the 6a manages to use its strict organisational nature to produce a very precise, well-timed and ultimately 'togheter'-sounding performance
Cyrus 6a

"I've recently had the chance to experience the most enjoyable first part of the three stages of life of every consumer product (the thrill of purchase, the eventual disappointment of ownership, the problem of disposal) when I 'upgraded' my reference amplifier from an Arcam FMJ A38 to a Cyrus 6A"
"In some ways the 6A could even be regarded as inferior, it offers only about 60 watts instead of 140, the sequential source selection menu is a pain, the remote control is horrid and the display isn't particularly legible for starters, yet I am absolutely overjoyed with it. How can this be?"
Cyrus 6a

The amplifier has a highly organized and energetic sound and easy enough to cope with the test floorstand acoustics.
Excellent control in the lower range, which can be easily traced relief bass instruments. Bass is extremely concrete, deep enough and does not drop the attack.
Expressive middle seems designed to the smallest detail and totally unveiled.
The space can be described as a fairly compact in scale, but with the exact preservation of all proportions.
Measurements:

Distortion rate is extremely low, in the power range of 0.5 - 30 W it is almost independent of the load impedance variations, at 0.003 - 0.004%.
For 8ohm load clipping begins at 50W, and for 4ohm at 70W.
The amplifier worked perfectly even with speakers having significant dips in impedance.
Cyrus 6a

Sound judgment: 90 points
Price / Performance: Very good

+high-resolution

+transparent

+dry bass

lively, highly transparent and high-resolution amplifier
Cyrus 6a

The 6a was declared the Best amp of 2012 following an exhaustive process undertaken by the magazine's reviewing team which looks at all of the amplifiers tested over the past 13 issues
The music sauntered along at a fair gait, with lots hapening and the general sense that it had a beginning, a middle and an end.
Moving to Sade's Smooth Operator and Ms Adu's vocals sounded delicate and sensitive, wheras it had been anaemic with many others here.
lndeed, it made the rather hard VCMG piece very llstenable, capturing the urgency of the music without assaulting the listener.
It proved detailed on the Jim White track, signposting the rain sound efect very well and serving up a contemplative mood to his lyrics, whereas others made him sound processed.
Lovely looks, spouse-friendliness and the fact that it makes your listening room rather larger than if you had the Yamaha sitting in the same place!
Measurements:

The 6a is capable of 2x50W/ 8ohm and 2x68W/ 4ohm with sufficient dynamic headroom to acommodate peaks of 89W, 162W and 270W into 8, 4 and 2 ohm loads (output is limited to 255W/ 1 ohm). Clearly, this is a very capable '40W' amp.
Distortion is very low at ~0,0005% through bass and midrange, increasing to 0,03% at 20kHz.
Cyrus 6a

Best stereo amp £600-£1000, Awards 2012.
The usual Cyrus traits: precision, clarity, speed, detail and confidence
Sonically the 6a doesn't stray from traditional Cyrus sound. This means there's a speedy delivery, excellent levels of detail, and a breathtaking level of clarity across a wide variety of genres.
Dynamic bursts are wonderfully controlled and the Cyrus can keep pace with even the most frenzied and complicated of beats.
Cyrus 6a: Impeccable precision

Vocals are clear and expressive and the amp has excellent midband clairity, and a controlled, seamless handling of dynamics. Spin Christophe Beck's instrumental Dead Guys With Bombs, and the 6a zings through the tension-packed piece with impeccable precision and soundstaging.
Cyrus 6 DAC

Cyrus 6 DAC builds its tonal spectrum from the center out, without overemphasizing this area. Rather, the exceptionally clear, concise and fine catalyzed details performance of the mid frequency is one of the strengths of the ohrenfälligsten Cyrus, that emphasizes its tonally tight and dry-structured character. The reproduction of natural instruments and voices is absolutely natural and has a very "real" feel
The perceived positioning of individual musicians or sound events within the action is excellent
Good dynamics
Cyrus 6XP

These are not specially analytical equipment, especially if you compare them with products on the property minded, such as Marantzami or Cambridge Audio. I think, however, that nevertheless perfectly Cyrus "communicates" with the listener, the musical message is absolutely clear and consistent.
There is something in that sound remarkably coherent, orderly and natural, with no sharpening and no blurring.
Cyrus can show certain things as much more expensive systems - compact and at the same time in the natural aura, giving them the truth.
Measurements:

Can boast the power of 55 watts into 8 ohms and 81 W at 4 ohms (one channel). At maximum effort adapter (loaded two channels) achieve 2 x 50 watts into 8 ohms and 2 x 63 W @ 4 Ohms - significantly more than the data directory!
The strongest second harmonic has a very low level of -92 dB.
Cyrus 6XP

Nice amplifier with a very nice sonic aesthetic that allows you to fully relax while listening.
Cyrus characteristic sophistication, ability to show the sounds of instruments in a delicate way.
Cyrus performs very well in creating spatial phenomena. This is an amplifier that can produce a broad view and a truly three-dimensional scene.
When you connect to the good minimonitory, the effect can be staggering.
Cyrus 6vs

"Respected the subtle note decays evident in the best recordings, and avoided exaggerating or inhibiting the natural die-away of the room sound."
"Nailed the sound of that tonally rich recording and delivered excellent stereo imaging in the bargain: a surprisingly big, substantial sound with superb spatial detail and stability, and decent if not peerless depth reproduction."
"Thanks to its good level of clarity, the 6vs was truer than most other inexpensive amps to the distinctions of different musicians' tone, touch—and recording venue."
"The Cyrus 6vs is something I can strongly recommend to anyone shopping in this price range."
Measurements:

Output impedance of 0.08 ohm at low and midrange frequencies, rising very slightly to 0.1 ohm at 20kHz
The Cyrus' reproduction of a 10kHz squarewave was excellent
The protection operated at 55.5W into 4 ohms (14.4dBW) with both channels operating and no less than 106.6W into 2 ohms (14.25dBW)
Even at the high power the second harmonic lay at –94dB (0.002%). Intermodulation distortion was also extremely low.
Cyrus 6vs & CD6s

The sound of the pair instantly captivating. Upper range transmitted exemplary neutral, in the tiniest detail and without embellishment. Sound details not only shown, but ennobled - hence the high realism of playback.
Picturesquely transmitted midrange. Even at high volume the music sounds natural, all instruments and vocals, easy to understand, are formed in the whole image. The bass slightly overdamped, but well to the attacker percussion instruments.
Energetic sound, rich and surprisingly tactful.
Equipment of this level is incredibly demanding on the quality of speakers and cables.
Measurements:

Just a phenomenal range, the dream of every designer. At 7W the distortion is simply not visible, at 0.005% not many harmonics above the noise floor. By increasing the output power up to 17 W appears the 3rd harmonic, and after 20 Watt - the 2nd. Components of higher orders have a very small amplitude up to clipping.
According to the classical canons of this amplifier can be regarded as a model, its sound should please even picky audience with a fine ear for music.
Cyrus 6a Features:
Audiophile integrated amplifier
High current power amp: Delivers highly dynamic drive for loudspeakers providing 190W peak power into a 1 Ohm load
Regulated VAS power supply: Clean and stable voltage amplifier stage, no trace of ripple and noise
Extremely short signal path: Reduced crosstalk and extremely low distortion, preserving signal purity
No output relay: Purist design and clean signal path, no sonic degradation
Soft-start system: No turn-on thump
Digitally-controlled analog volume control: ±0.2dB channel balance, accurate and stable soundstage
Three modes LCD display operation: "Small input", "Large input" and "Large volume"
Twin transformer design: Separated audio circuits and control systems
Suitable for the new QXR digital interface upgrade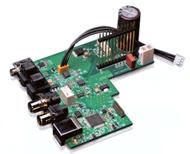 QXR DAC Module
Technical Information
Specifications
Power output: 2 x 57W (into 6 Ohms)
Burst Power: 190W (IHF, one channel driven into 1 Ohm)
Distortion: 0.003% @ 1 kHz (into 8 Ohms) 0.004% @ 1 kHz (into 4 Ohms)
Frequency Response: 0.1Hz – 100Khz (-3dB)
Damping Factor (1 kHz): 150
Sensitivity (40W): Line: 179mV
Input impedance: 40kOhm (RCA).
Output voltage: 179mV (Tape out), 360mV (Pre out)
S/N Ratio: 104dBA (ref. 40W)
Channel Balance: ±0.2dB (0dB to -63dB)
Volume control accuracy: ±0.1dB (0dB to -63dB)
Dimensions (H x W x D): 73 x 215 x 360 mm
Finish: Brushed black, Quartz silver
Weight: 5kg

Line inputs:
6 analogue
Outputs
Bi-wire loudspeaker terminals (BFA plugs supplied)
Pre out (x 2)
Zone 2 out (or Tape out)
Headphones out
Construction
Enclosure: Cyrus Inverted die-cast chassis
Material: Lightweight non-magnetic alloy
Internal power Supplies
1 x 130 VA Toroidal transformer with 5 regulated rails
1 x Separate toroidal transformer for control systems

Communications
MC-BUS™ System BUS
Remote Control Supplied with Cyrus system remote control

Standby power consumption
Less than 1W