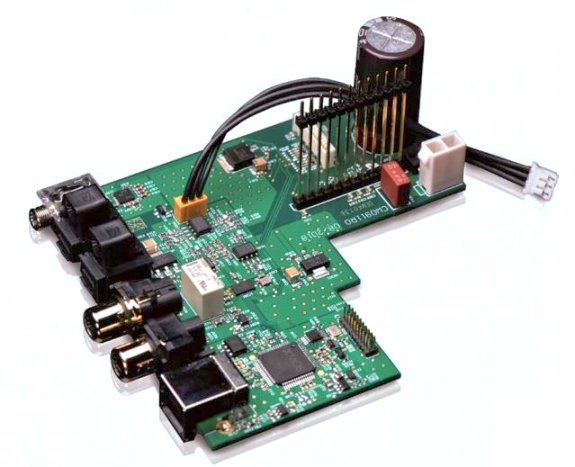 Cyrus QXR DAC Module Features:
Can be fitted to both Cyrus integrated amplifiers and Cyrus preamplifiers
High-specification 32-bit/768k ESS DAC
Asynchronous USB port
Improved headphone amplifier
Cyrus QXR: new DA converter for existing amplifiers
The new QXR DAC card not only improves the performance of the line outputs but also improves the performance of the built-in headphone amplifier. The card is available for a large number of Cyrus products.
The QXR card is capable of processing PCM signal up to a resolution of 32-bit / 768 kHz 'Native' DSD 512 via the USB input. The high-specification ESS DAC chip uses asynchronous upsampling. Even through the optical and coaxial inputs where the signal comes in at a lower resolution, the signal is clocked again to reduce any noisy jitter. The improved headphone amplifier, associated with the upgrade, has a lower noise floor and with 138 mWatt per channel at an impedance of 16 Ohm is able to control almost all common headphones to an impedance of 64 Ohm.
Cyrus QXR upgrade: for which devices? At what price?
The QXR upgrade will cost £600 in the UK and is compatible with: 8₂ DAC Qx, 8₂ DAC , 8 DAC Qx, 8 DAC, 8a, 6 DAC, 6a, Pre₂ DAC Qx, Pre₂ DAC, Pre DAC Qx, Pre DAC.
Product Overview
The QXR card upgrade is the most significant improvement to Cyrus amplifiers in recent years. Bringing a world of the highest-resolution digital inputs to products up to a decade old.
QXR works with numerous Cyrus products, not only improving the sonic performance through the addition of a 32bit/768k DAC and all-new asynchronous USB bridge but also substantially improving the performance of the headphone amplifier section of these integrated and pre-amplifiers.
Further Information
The new QXR DAC card can be fitted to the existing Cyrus integrated amplifiers and preamplifiers. The five digital inputs include 2 x optical, 2 x SpDIFF and a USB input.
The QXR DAC card is capable of processing PCM audio to 768k at a 32bit depth and 'Native' DSD 512, through the USB input. The high-specification ESS DAC uses asynchronous upsampling to deliver a sublime audio signal regardless of source. Even via the lower resolution digital S/PDIF and Toslink interfaces, incoming signals are 'reclocked' to substantially reduce noisy 'jitter' and deliver a refined, cleaner audio signal to the pre-amplifier stages of the upgraded product.
The improved headphone amplifier, included within the upgrade, reduces the noise floor, providing a much improved dynamic range. Capable of outputting 138mW per channel into 16ohm loads, it can comfortably drive headphones with impedances of up to 64ohm.
Technical Information
Inputs: 2 electrical SPDIF, 2 optical SPDIF, 1 USB
SPDIF supported formats 16/44.1k - 24/192k
USB supported formats 16/44.1k - 32/768k
DSD supported formats up to DSD512
DOP supported formats up to DOP128
Outputs: 1 analogue output (internal), headphones (minijack)


Upgrade available for the following Cyrus models
Integrated amplifiers: 8₂ DAC Qx, 8₂ DAC , 8 DAC Qx, 8 DAC, 8a, 6 DAC, 6a
Preamplifiers: Pre₂ DAC Qx, Pre₂ DAC, Pre DAC Qx, Pre DAC

QXR digital interface suitable for: