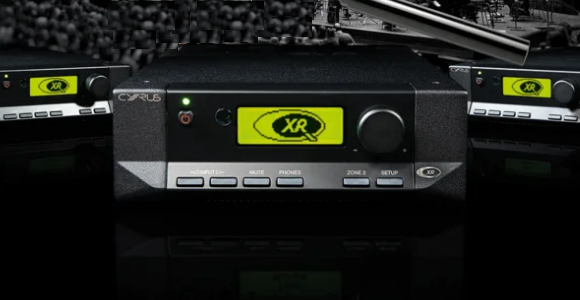 £2549
Cyrus 8₂ DAC QXR Features:
Audiophile DAC integrated amplifier
32-bit/768k upsampling QXR DAC: all connected sources will benefit from clock regeneration and upsampling of the incoming data
High current power amp: Delivers highly dynamic drive for loudspeakers providing 320W peak power into a 1 Ohm load
Regulated VAS power supply: Clean and stable voltage amplifier stage, no trace of ripple and noise
Extremely short signal path: Reduced crosstalk and extremely low distortion, preserving signal purity
No output relay: Purist design and clean signal path, no sonic degradation
Soft-start system: No turn-on thump
Digitally-controlled analog volume control: ±0.2dB channel balance, accurate and stable soundstage
Three modes LCD display operation: "Small input", "Large input" and "Large volume"
Twin transformer design: Separated audio circuits and control systems
Can connect with a PSX-R2 adding both detail and dynamics to the amplifiers performance
Product Overview
The Cyrus 8₂ DAC QXR is the latest iteration of our higher-specification integrated amplifier. Available pre-built with the QXR DAC upgrade, this amplifier delivers an impressive 88 Watts per channel, and includes multiple digital and analogue inputs which you can individually name from a list of options in the setup wizard.
The USB input will work with file formats up to and including 32Bit, 768k and DSD 512, making this one of the most technologically advanced amplifiers on the market today. Cyrus, however, has always been about more than technical one-upmanship and this integrated amplifier delivers a level of refinement and control rarely experienced at this level.
Also included is a great headphone facility, twin speaker outputs for bi-wiring and a fully-featured, programmable remote control.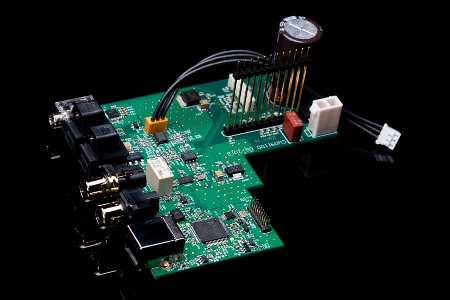 QXR DAC:
32-bit/768k upsampling QXR DAC: all connected sources will benefit from clock regeneration and upsampling of the incoming data. Sophisticated regulation stages.
Further Information
Trickle Down Advanced Technology: The Cyrus 8₂ DAC QXR delivers surprising audio performance and value because it is based on the advanced preamplifier circuitry from the DAC XP Signature; benefitting from a 'trickle down' of our most advanced technology.
Integrated Amplifier: The bi-wire output of the 8₂ DAC QXR gives a full 88 Watts into 6 ohms. The power supply is a high current design that uses two transformers to completely separate the digital control stages from the sensitive audio signals.
Integrated DAC: The 8₂ DAC QXR features a high performance DAC bringing optical and coaxial inputs and an asynchronous USB connection allowing plug and play connectivity to a PC or Laptop. Cyrus 8₂ DAC QXR Class-leading sound quality with system flexibility built-in
Essential Connectivity: Six analogue inputs, a high quality headphone amplifier, Zone 2 and pre amplifier outputs give the 8₂ DAC QXR flexibility for connecting a wide variety of audio devices. There is also a PSX-R port on the 8₂ DAC QXR allowing connectivity of the instant upgrade off-board power supply.
Advanced Setup: The microprocessor controlled operating system in the 8₂ DAC QXR allows extensive programming of many functions within the unit. Input naming, differing display readouts and input volume matching across all sources are just some of the possibilities
Technical Information
Specifications:
Power output: 2 x 88W (into 6 Ohms)
Burst Power: 320W (IHF, one channel driven into 1 Ohm)
Distortion: 0.002% @ 1kHz (into 8 Ohms) 0.005% @ 1kHz (into 4 Ohms)
Frequency Response: 0.1Hz – 100Khz (-3dB)
Damping Factor (1kHz): 150
Sensitivity (70W): Line: 237mV
Input impedance: 40kOhm (RCA).
Output voltage: 237mV (Tape out), 480mV (Pre out)
S/N Ratio: 105dBA (ref. 40W)
Channel Balance: ±0.2dB (0dB to -63dB)
Volume control accuracy: ±0.1dB (0dB to -63dB)
Dimensions (H x W x D): 73 x 215 x 360 mm
Finish: Brushed black, Quartz silver
Weight: 7.2kg
Line inputs:
6 analogue
Digital inputs:
Inputs: 2 electrical SPDIF, 2 optical SPDIF, 1 USB
SPDIF supported formats 16/44.1k - 24/192k
USB supported formats 16/44.1k - 32/768k
DSD supported formats up to DSD512
DOP supported formats up to DOP128
Outputs
Bi-wire loudspeaker terminals (BFA plugs supplied)
Pre out (x 2)
Zone 2 out (or Tape out)
Headphones out
Construction
Enclosure: Cyrus Inverted die-cast chassis
Material: Lightweight non-magnetic alloy
Internal power Supplies
1 x 350 VA Toroidal transformer with 5 regulated rails
1 x Separate toroidal transformer for control systems

External power Supplies
Highly regulated PSX-R2 upgradeable
Communications
MC-BUS™ System BUS
Remote Control Supplied with Cyrus system remote control

Standby power consumption
Less than 1W