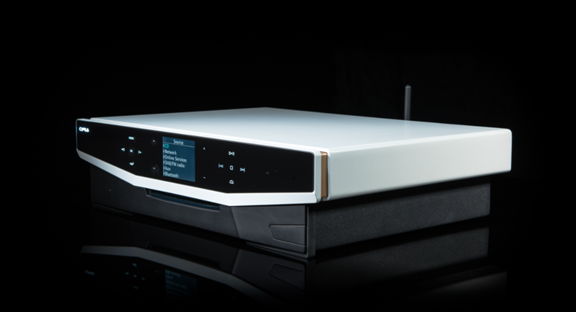 £2750
Cyrus Lyric 09

Lyric 09 is Stereoplay Group Test "Highlight" Winner
Price/ Performance: "Outstanding"
Cyrus Lyric 09 is a majestic device that's full of power.
The Lyric 09 can drive great big floor-standing speakers. We moved up from the small studio monitors to the room filling Bowers & Wilkins 802 Diamond speakers. This does look unusual; we would normally put impressive mono blocks with the 72 kilo speakers.
However, in this case, it is a single component which doesn't merely bravely hold its own, rather threatens to make a mockery of separate mono amps.....the Lyric 09 remained strong as iron demonstrating incredible strength, the B&W have seldom sounded so natural.
As far as sound, design and user functionality goes, the Lyric 09 is one of the heroes of this test and our surprise winner.
Often the phrase "All-in-one", can mean everything is levelled into a middle class middle of the road performance. The Lyric 09 is different: great high end, perfect sound staging, high resolution, dynamic and very stable power amplification.
Cyrus Lyric 09

The tonal balance is actually perfect. The same can be said of timbre - is neither cool nor insulated. Lyric 09 just playing, acting like a high-end amplifier. In the first minutes rather not throw listeners to his knees, but then begin to bestow it more and more respect.
The sound was always tight and ready even for the arrival of total slaughter. Respect. Which in addition to the overall neutrality and speed can appeal to the Cyrus? Certainly dynamics and stereophony.
Cyrus Lyric 09 is a complete audio system in one box to which you can connect up to 14 sources and loudspeakers... Cyrus can play files in 24-bit. Built-in 32-bit data performs upsampling to 192kHz. The interior of such a versatile device should look like a mountain of cars in the junkyard, but - here there is even German order.
VERDICT: Cyrus Lyric 09 is extremely modern device with a mature audiophile sound... The price may seem high, but think how much you would spend buying a separate amplifier, converter, player, streamer and tuner, and to separate table for all the junk and again on the remote control to them. I was convinced by the device.
| | |
| --- | --- |
| | Lyric 09 -- AV Magazine Excellence Awards 2015 "All-In-One System Of The Year" |
Lyric 09 -- What Hi Fi? Sound and Vision Awards 2014 "Best Music system £1,500+"
A strong style statement from Cyrus and an even stronger sonic performance makes the Lyric 09 a must-audition. It's a superb system.
Unbelievably detailed sound ; Wonderfully open and spacious presentation ; Powerful delivery ; Decent control app ; Packed with useful functionality
Cyrus Lyric 09

"Versatility and comfort of Cyrus knows how to convince. Some may wonder about the new design, but all resentment evaporates when listening."
Cyrus Lyric 09

Hooked up to PMC fact.8 loudspeakers with Townshend Isolda cable, the sound is pacey and very open. It is also uncannily clean.
The Cyrus Lyric 09 makes many of its rivals sound a little grubby or earthy in comparison, but without the 'shiny' sound that you might expect from an amp designer over-compensating. It has excellent depth when the recording allows, and always works well with regard to tempo.
Lyric is a tour de force for Cyrus. The sound quality combined with the feature count and sheer ease of use puts it in the premier league. The amplifier is a major upgrade on virtually all multi-source, single box solutions and makes Lyric good enough for some very revealing loudspeakers. This is a product for today!
Cyrus Lyric 09

AVSA South Africa's premier audio visual magazine, reviews the Lyric's ability to deliver real music with verve and authority:
Deon Schoeman takes us on a musical journey sharing how the Lyric makes The London Symphony Orchestra sound rich in emotion and expansive in scale, and how the luscious swing of Robbie Williams' Swing Both Ways, is proof of our talent for scale and occasion!
Schoeman seems lost in the moment as the Lyric takes him to the realms of believable sound, with brooding presence, a smooth glass finish and soft touch controls, Schoeman compliments the Lyric on its sexiness, muscle and robustness.
Cyrus Lyric 05

Sound Rating: 100 points, Price / performance: "very good"
"Recommendation: a dynamic sound"
"Versatile all-in-one-system with powerful sound"
"Despite the futuristic concept of the L-05 woke the round and yet sprightly playing character with rich, varied middle reminding of classic British sound virtues. The heights are exclusive and reserved, but not imposed. The bass met exactly the right level of juicy punch and volume - at a quite high level of control."
Cyrus Lyric 09

Sound level: 100%, Price / Performance: "excellent"
"A complete system of the highest class in the smallest CD players space, DAB + / FM, Internet Radio, 32-bit DAC, streaming client and the enormously potent hybrid amp, deliver incredibly high sound quality. Top not just as a second system. Fascinating."
Cyrus Lyric 09

Over in Poland's version of Hi-Fi Choice, the Lyric 09 gained a laudable five stars verdict
"Clear, detailed and dynamic sound"
Cyrus Lyric 09

At 2013 Diapason D'Or Awards, Cyrus Lyric 09 was named Best All-In-One System of the year!
The prestigious French award recognises everything we designed Lyric Series to do – including it's revolutionary looks, fantastic functionality, and of course our uncompromising sound quality.
Cyrus Lyric 09

All the individual elements of the song hang neatly in a clear, open soundstage. There's an impresive sense of power and drive on tap too.
A really strong sonic performance makes the Lyric 09 a must-audition. It's superb
Detailed sound ; open presentation ; powerful delivery ; control app ; functionality
Cyrus Lyric Features:
One music box solution - enjoy high quality music with no hassle
200 watts per channel continuous output power (into 6 Ohms)
Hi-end stream engine built in
Servo Evolution - it draws more data from a compact disc than any other CD reader
Multiple digital music sources: UPnP/ DLNA local network music streaming, Qobuz and TIDAL online lossless music streaming, Internet Radio, 2x Coax digital input, 2x Optical digital input, 2x USB A, 1x USB B
Upsampling 32bit/ 192kHz digital to analogue converter
Linear power supply throughout for minimal noise
Huge power reserve provided by a vast 475VA linear power supply
11 separate power supplies – to maximise separation of different circuits
Speaker Impedance Adjustment - make the most of the speakers you are using
New display featuring proximity sensor - will signal the display and controls to light up for you
Hand-finished glass and aluminium casing
Controlled using our Cadence App or 3rd party Apps (e.g. mconnect Player) you can search tracks from your complete library and play them at the touch of a button
Recommended 3rd party App for Cyrus streamers:

mconnect Player - media player app to support UPnP/DLNA and Google Cast(Chromecast):
Recommended install for Synology and Qnap NAS users:

MinimServer - you'll get excellent sound quality from your music collection using MinimServer as your DLNA media server.
Technical Information
Specifications
Continuous power: 2 x 200W per channel (into 6 Ohms)
THD+N for digital input: 0.008% (1kHz)
THD+N for analogue input: 0.012% (1kHz)
DAC: Upsampling 32bit/ 192kHz digital to analogue converter
Power supply: 475VA linear power supply
Dimensions (H X W X D): 105 x 420 x 320 mm
Finish: Stealth, Stone - Glass and Al casing
Weight: 9kg
Network connectivity *
Cabled Network: Ethernet
Wireless Network: 802.11g
* UPnP / DLNA streaming, Qobuz, TIDAL, Internet Radio

Internet Radio (Cadence App for Android screenshots)
Inputs/ Sources
CD, Optical SPDIF x 2; Coaxial SPDIF x 2; Streaming; Analogue Stereo RCA; USB A x 2 (iPhone, iPod & iPad compatible); USB B x 1; Bluetooth; DAB; FM; Internet Radio; TIDAL and Qobuz Music Streaming
Outputs
Speaker Out - 1 stereo pair
Configurable Line Out x 2
Headphone Out - 3.5mm jack
Subwoofer Out
Digital audio performance
Sample rate compatibility: Up to 24 bit/192kHz
File compatibility: WAV, FLAC, ALAC, AAC, MP3, WMA, AIFF
USB drive file compatibility: FAT16, FAT32
Streaming Control Interfaces
LCD front panel display
Remote handset
Cadence App for Android and Apple IOS devices
3rd party Apps for Android or IOS e.g. mconnect Player
Internal power Supplies
Large toroidal transformer – linear power supply throughout for minimal noise
Huge power reserve provided by a vast 475VA linear power supply
Eleven separate power supplies – to maximise separation of different circuits
Construction
Enclosure: Hand-finished glass and aluminium casing

LYRIC Stone (left) & Stealth (right)
'Finishing Touch' Enhancements
Speaker Impedance Adjustment
Lyric automatically senses the impedance of connected speakers and adjusts its output accordingly,
so that the output frequency range is matched to make the most of the speakers you are using.
Proximity Sensors
As you approach the unit to use its controls, proximity sensors will signal for the hidden unit lit
display to light up for you.
Ambient Lighting Sensors
When you don't need it, Lyric blends into its surroundings so that you can simply enjoy the music.
Its built-in light sensors constantly check the light levels of the room, and adjust the brightness of
the display accordingly.
Speaker system configurable
2.0 or 2.1 speaker system configurable with full or high pass filter primary output and full or low pass filter , fixed or variable subwoofer output.

LYRIC Stealth (rear panel)