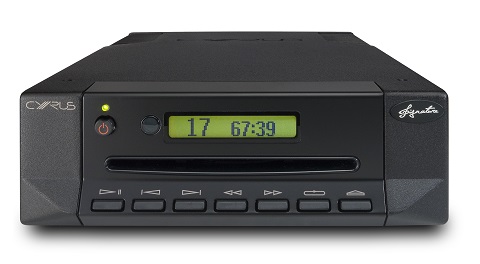 £1895
Cyrus CD XT Signature

The Signature sounds cleaner, crisper and more dynamic, even compared with its predecessor partnering a PSX-R.
Each instrumental strand is crisply drawn, notes stop and start with precision, and subtleties, such as the dense texture of the growling low frequencies and the space around the sparse instrumental backdrops, are easy to hear.
The soundstage is open and wonderfully expansive. The imaging is stable, focused, and layered with great care.
We're also impressed by the combination's wide-ranging dynamics; the way the soundtrack's seismic bass hits hard but also the nuanced rendering of the piano and string notes. It's the kind of performance we'd find hard to better even at double the money.
Outside of very expensive alternatives this is the best-sounding CD transport we've heard
Class-leading sound when partnered with a suitable DAC
Superb dynamics
Cyrus CD XT Signature

The taut bottom end feeds up to a most excellent mid-band which seems very good at digging down into the spaces between the notes on music with repetitive beats, be it the jazzy strains of Herbie Hancock's I Have A Dream or the thumping drum and bass of Goldie's Inner City Life
It sounds less stressed, less brittle and more like an organic event before your very ears. Indeed, this really defines the Cyrus; it has a sense of ease that simply doesn't sound like digital. The music flows organically, rather than coming over as forced or artificially enhanced in some way.
Treble is excellent too, being crisp and smooth and well extended. Again, it's amazing how a transport can change the 'feel' – if not the actual tonal balance – of the high frequencies.
It's an awful lot to spend on 'just' a transport, but I have never heard anything that comes close at this price.
LIKE: Stable, spacious, musical sound; slot-loading design
WE SAY: Superb 'affordable high-end' silver disc spinner
Cyrus CD XT SE+/ DAC X+/ PSX-R

Best CD player £2000+, Awards 2010. Cyrus's ultimate CD player sounds staggeringly fast. It defines notes with exceptional precision
Staggering resolution, agility and dynamics
Impressive timing and stereo imaging
Cyrus CD i

We played Hans Zimmer's Dream is Collapsing from the Inception soundtrack and right away the CDi displayed the uniform, articulate and intuitive presentation that we'd expect from a more expensive player.
Offering buckets of detail, the finer flurries of quieter instruments surfaced, while the more intense parts of the score soared into a dramatic climax.
Each layer of the composition was precisely unpeeled, and each instrument passed through the mix with coherent flow and tact.
But the rhythmic talent here is what really raises our eyebrows. Pace and momentum is exercised with articulation and vibrancy.
We found ourselves entertained by the Cyrus' dynamic agility and neutral balance in a way that's rare at this price.
As if that weren't testing enough, we dug out a live recording of Linkin Park and were equally impressed at the amount of clarity and definition it extracted against the background crowd noise – even if the spacious soundstage seemed a bit forsaken.
Cyrus CD i

FIRST TESTS:
Exceptional resolution and agility: terrific dynamics; a wonderfull way with rhythms; precise sound-staging; upgrade potential
Eminem's Marshall Mathers LP 2 is a hard-sounding album, but this Cyrus takes it all in its stride. The presentation has greater weight and low-end authority than its predecessors, but it's the CDi's way with rhytms that really catches our attention. It's dazzling expressive, capturing the changes of pace and momentum superbly.
Move onto Tchaikovsky's 1812 Overture and w're taken by the Cyrus's dynamic reach and its ability to keep track of delicate musica strands when the piece gets busy.
The CDi is an exceptional player that's as insightful as it is entertaining.
Cyrus CD Xt Signature Features:
Advanced filtering throughout the circuitry of our most advanced audiophile CD player ensures its huge power supply doesn't interfere with the sound you hear.
This allows the Servo Evolution software (which has been updated specifically for this product) to work with miniscule precision, pulling huge amounts of data from your disc without adding or taking away anything from the music itself.
Among many component upgrades, an advanced loader has been chosen for this audiophile CD player, with LED disc detection technology for better detection and loading control.
Dual toroidal power transformers.
Product Overview
An audiophile CD player (transport) using advanced disc reading technology. The best we've ever made.
Based on improvements made to our Anniversary System CD player, the CD Xt Signature is a dedicated CD transport which produces audiophile sound quality. It is manufactured with a range of performance enhancing techniques and components, including an evolved version of our Servo Evolution technology.
Two separate power supplies provide huge reserves of power, which eliminates the need for a PSX-R.
The sound produced by the CD Xt Signature is truly stunning, providing a room filling wide and high soundstage. The sound of the CD Xt Signature played through a DAC XP Signature and two Mono X 300 Signatures is really something to experience.
Technical Information
Specifications
Coaxial Digital output: SPDIF via RCA phono jack socket
Output voltage: 500mV pk-pk
Output impedance: 75 Ω
Optical Digital output: SPDIF via Toslink transmitter
Dimensions: (H x W x D) 78 x 215 x 360 (mm)
Finish: Brushed black, Quartz silver
Weight: 4.7kg
Construction
Enclosure: Cyrus Inverted die-cast chassis with Slot-loading CD transport
Material: Lightweight alloy and non-magnetic material throughout
Internal power Supplies
Twin toroidal power transformers feeding multiple regulated power supplies
Huge power supply followed by advanced filtering throughout

Electrical
Outputs: SPDIF coaxial and optical
Disc-reading transport: Isolated slot loading mechanism with high bandwidth optical pick-up
Disc Compatibility: CD, CD-R (closed session)
Display: Custom LCD with subtle green back lighting
Remote Control: Full function Cyrus system remote control facility
Communications: MC-BUS™ System BUS