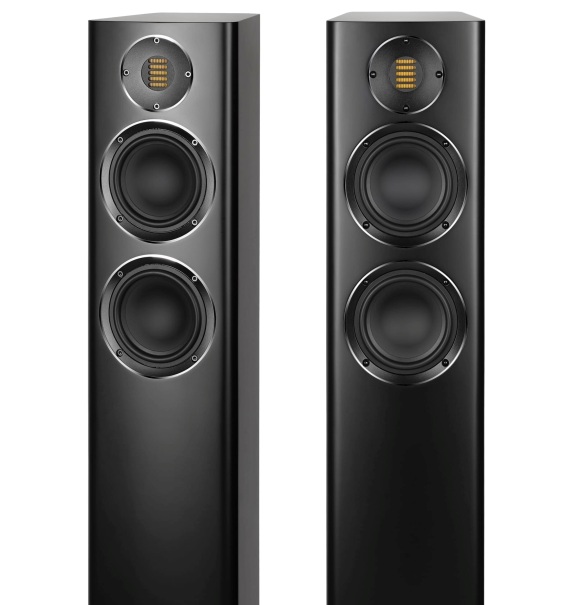 €
1996
ELAC Carina FS 247.4

It was obvious: the Elac BS243.4s could resolve supermicro information better than any speaker I know in its price range. The choir appeared as genuine little heads with faces and moving mouths, the sound of each singer unique and distinct.
In a confession booth or while handling snakes by a pulpit, I'd have to swear: Elac's new Carina BS243.4 loudspeaker sounded more refined than any similarly priced loudspeaker I know of.
Mainly, though, the stand-mounted Elac's greatest virtue is its supersmooth octave-to-octave balance. Throughout my review process, the word elegant kept forcing itself on me. Bravo, Andrew and Elac!
Measurements: Elac has impressive linear and cohesive frequency response with only one hint to climb to the top measured straight from the front (Green). 60 degrees (red) from the side falls treble over 10 kHz, fast but controlled. Elac has very nice impedance (green). Never below 5.5 ohms.

Magazine 03/2020


ELAC Carina FS 247.4:

"All in all, the new Elac floorstanding speaker is more than a solid entry into the high-end world. The Carina 247.4 sounds natural and balanced, sometimes almost neutral and tightly tuned like a studio monitor, if need be, but also as impulsive as a large concert speaker. This is not least due to the harmonious interplay between highs and basses, which are never too thin or too bulky ... "

Magazine 12/2019


ELAC Carina FS 247.4: Price / performance: "Very good", "Highlight"

"Very good - outstanding"; Top class

Plus: flawless processing; chic design; uncomplicated installation; dynamic sound; detailed reproduction; solid bass; Price for what is offered.

Magazine 01/2020


ELAC Carina FS 247.4:

Advantages: very good workmanship; beautiful design; great sound; HiRes capable; strong bass; neat spatial representation.
Disadvantages: missing front covers.
Compound Curvature Aluminum Woofer : two woofers with large diameter voice coil and over-sized vented pole piece magnet for remarkable bass dynamics and a rich powerful performance

JET : Folded Air-Motion-Transformer

Tweeter
The Carina Floorstand Speaker
Building upon its performance, Carina continues ELAC's tradition of utilizing the JET tweeter, chosen for its amazing clarity, dynamics and attack. To match this capability, a new in-house developed proprietary compound curvature aluminum coned woofer is seamlessly blended via a sophisticated multi-element xover to produce an organic life like sound experience. Fresh looks, fresh sound; the new Carina is destined to further enhance ELACs class-leading reputation.
Specifications

Dimensions H × W × D

Weight

16,4 kg

Principle

2½-ways, bass reflex

Woofer

Tweeter

1 × JET folded ribbon

Recom. Amplifier Power
at Nominal Impedance

30-200 W / channel

Crossover Frequency

1,000 / 3,000 Hz

Sensitivity

87 dB / 2.83 V / 1 m

Nominal Impedance

6 Ohm

Minimum Impedance

4.8 Ohm

Frequency Range
acc. to IEC 268-5

34 ··· 30,000 Hz

Peak Power Handling

120 W
| | |
| --- | --- |
| Finishes | Satin Black, Satin White |
JET Folded Air-Motion-Transformer

Delivering true high-definition sound, ELAC's JET tweeters enthrall with its lightning-fast response and wide dynamic range, offering minimal distortion, lots of headroom and a wider frequency range. The ELAC JET tweeter is one of the most legendary tweeters in the industry and has won international praise with its transparent and effortless sound image.
Compound Curvature Aluminum Woofer

To match the capabilities of the JET tweeter and guarantee a seamless transition from the woofer to the JET tweeter, the compound curvature cone has been developed to control the cone breakup and move it well beyond the operating range of the woofer. A large diameter voice coil and over-sized vented pole piece magnet combine to give remarkable bass dynamics and a rich powerful performance.
Downward Firing Port

For a more flexible speaker placement and to minimize ventilation noise, the bass reflex port on the Carina series is directed to the floor, exiting the bottom of the speaker cabinet in a down-firing configuration.