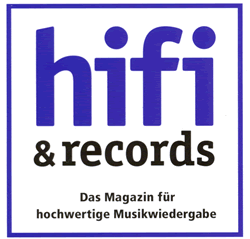 1 / 08 - Stefan Gawlick
The technology makers from the North: ELAC FS 249.
... "Kiel manufacturers for many years repeatedly for innovative solutions good. Even in the current speaker range, we find developments, against some "recognized" high-end loudspeakers, whose producers screws in the cabinets any series chassis, plentiful pale and mindless effect. First of all, the material value of the FS 249 ELAC is enormous: Where else do you get in this price class a really serious stander, which is painted perfectly, with complete accessories daherkommt and some even developed and manufactured, very noble chassis houses? "...

Now, the FS 249 prove what they can ...
... "The ELAC now builds a very clean room, it immediately gives the concert atmosphere and provides guitar, bass and percussion immovable on the stage. Especially with Trilok Gurtus instruments striking to see how finely attack also sensitive to noise. Each of the hissing Basin, the dry crack of bass drums or changes in the smallest sound gongs in a water bath: This speaker provides a wealth of details, as I have not yet heard in this price range. It sounds boring he is not academically, but grooves if necessary, that there is a true joy.
... Such a speech intelligibility by metal diaphragm, I have until now only one other experienced speakers. And this box costs more than twice as ELAC. The colors are clean sound transported, as it is not difficult for the three singers at the beginning apart. compliment. Large orchestral recordings bring ELAC FS 249 into the spinning, on the contrary. It carries through with schlafwandlerischer security affairs, spread the musicians precisely in space and also returns quietest addition to votes is not under the carpet sound. ... . In terms of the resolution shows in which price class is ELAC. So it recommends the music listeners who want to know exactly what the sound was immortalized for. "
Conclusion:
"The ELAC FS 249 is a genuine offer of friendship, a consistently high-end loudspeakers from a major audio manufacturer. The enormous detail, the good intelligibility and a clean room diagram shows the strengths of the FS 249 ... If the combination is true, one wonders why you have to spend more money for a loudspeaker. "