2 / 2011 - Jens Voigt
ELAC FS 247
Sound

in the

pair

:

Stereo

Floorstanding Speaker

s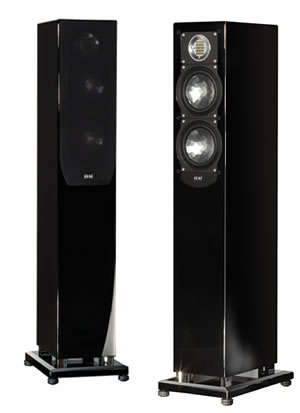 Fotos: HiFi Test
..."We heard at any time, a very good dynamic control of the music. A concert for borrowing reached a significant stimulus because the increase of the powerful dynamic levels was not accompanied by a weakening of the fundamental. Thus, the energetic bass pulses in Rachmaninov's first Symphony of the "Symphonic Dances" transfer - with a coarse pressure. At any time to receive was the detailed spatial and this joy with very good depth and width of the acoustic stage with detachment from the speaker. The Wagner's Overture to "The Flying Dutchman" had a clearly traceable graduation orchestra with very good prospects away. The brass sounded very nice with brilliance and verve, the woodwinds and strings were almost real bright tones. Every little detail, be it a subdued pizzicato or an arch that touched the music stand, was perceptible. Very impressed us the waves, which are imitated by the strings and pulled down with us to the troubled sea.A high degree of neutrality, which has not sterile, exudes special vitality, gave each soloist - whether harpsichord or bass - what he needs for his presentation. No excessive stimulus, either in flamenco guitar or vocals or in language, making an almost perfect S-sound-control and consonants are the result. Rock music itself has benefited from direct, catchy guitars and drums rich detail.
As there is little left to be desired. "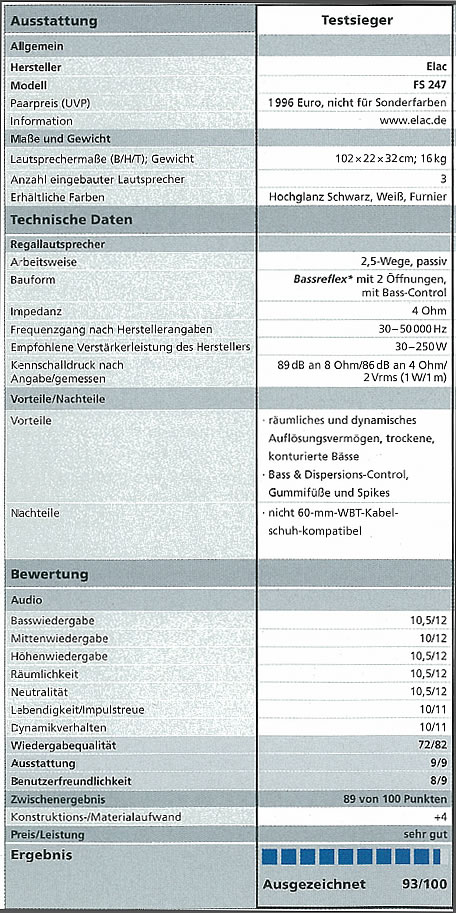 Conclusion
"A comparison between such a large number of standing speakers also brings always a few rocks with it, can crash in which one or the other candidate. But it is gratifying that it is not in this case happened. Each claim and each purse is here something Adequate offered. As excellent test-takers can we elect the state loudspeaker FS 247 of Elac. He offers in the main discipline, the playback quality, the best performance and can also get in the category of equipment due to the included sound optimizations full credit. This is distinguished speakers remains a very high neutrality in the representation of that was heard in the unit with powerful, controlled and contoured bass and a wide-frequency range due to the ribbon tweeter, no sharpness, and gave the middle of an almost unclouded resolution. The total vote of the chassis, the arrangement and the crossover can be a wide-ranging experience in the imaging space, which reached transparency, transient response and dynamic behavior near the top ratings ."...