1 / 2008 - Jochen Schmitt
ELAC FS 247 - Klangkristalle
"ELAC Loudspeakers have a high standard of quality, because the products are not only in Germany but in the majority also fully produced. Punches from the coils makers on the winding up of coils for the manufacture of magnets, the range of work steps , Under strict guidelines tolerance in Kiel plant carried out ."....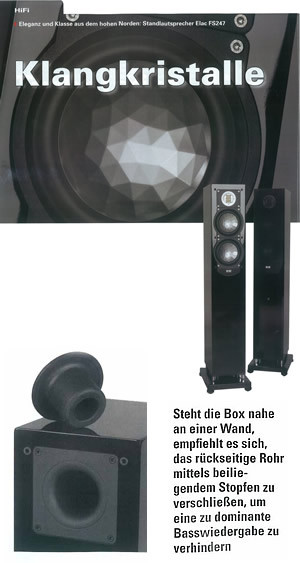 Fotos: HiFi Test
Sound
... "Spontaneous enthusiasm is immediately after the start of our test CD with a very open and spacious presentation ELAC receives the speaker his audience. Without effort to place the FS 247 voices and monitoring instruments to their intended places and can be the Interpreters much air to breathe. Aufgesetzt acting effects are looking at the performance in vain - voices and instruments always retain its natural coloring, highlights once again the continued phenomenal acting JET tweeter, his praise deserves more than fair. "
Laboratory
"As with a ruler considered writes ELAC FS 247 courses into their frequency CLIO measuring protocol and documented extreme Breitbandigkeit from 35 Hz to far beyond the measuring border. The circular beam behavior is also nothing to be desired" ...
Conclusion:
"ELAC has worked with the new crystal membranes loaded 247 FS Lautsprecherjuwele true, not only because of their unusual appearance elegant stand out, but above all with excellent sound quality aufwarten. The elegant stand speakers must be unqualified praise pronounce" --

Our congratulations go to Kiel!