ELAC Carina FS 247.4

It was obvious: the Elac BS243.4s could resolve supermicro information better than any speaker I know in its price range. The choir appeared as genuine little heads with faces and moving mouths, the sound of each singer unique and distinct.
In a confession booth or while handling snakes by a pulpit, I'd have to swear: Elac's new Carina BS243.4 loudspeaker sounded more refined than any similarly priced loudspeaker I know of.
Mainly, though, the stand-mounted Elac's greatest virtue is its supersmooth octave-to-octave balance. Throughout my review process, the word elegant kept forcing itself on me. Bravo, Andrew and Elac!
Measurements: Elac has impressive linear and cohesive frequency response with only one hint to climb to the top measured straight from the front (Green). 60 degrees (red) from the side falls treble over 10 kHz, fast but controlled. Elac has very nice impedance (green). Never below 5.5 ohms.
ELAC Debut Reference DBR62

The invisible details of the Debut Reference were also taken care of. The inside of the loudspeakers is reinforced with struts to keep the vibrations of the housing in check. This is also ensured by the thicker baffle and the stronger floor compared to Debut 2.0, which give the speakers more weight and largely prevent sound discoloration. The low-frequency driver is new, which is made of stiffer cast aluminum for more low resonance. The bass receives support from a slit-shaped reflex opening on the front edge of the housing, which is supposed to provide more power in the draft and less noise. In the end, the crossover has also undergone a general overhaul. All of this for the ideal picture of linear sound.
Details do not suddenly jump into your ears, but pearl more into the room. Vocal parts with sharp S-sounds are not aggressive and drum cymbals dissolve cleanly. All of this results in a realistic reproduction that can be followed effortlessly throughout the day.
Strong bass impulses from a kettle drumbeat catapult the Elac DBR62 into the room with the necessary weight. They also offer contours, with easily understandable bass notes.
Singer-songwriters or a small jazz trio please with intense, emotional performance that can be grasped in the mind's eye. It is not dissected, but put together to form a unit.
With the DBR62, Elac once again stands out from the classic debut speakers, but retains their basic essentials. Here an outstanding price-performance ratio meets a fresh appearance. Versatile - in space and in sound.
ELAC Debut Reference DBR62

In the heights, the speakers play a clear sound and make the music appear very detailed. In the mid-range, the speaker appears very balanced and lets its sound ring in the ears of the listener with a great sound. When it comes to bass, the DBR62 can not be taken, there it is very dynamic and gets to the point without oversteering.
With their classic design, the ELAC Debut Reference DBR62 not only cut a good figure to our taste, but also deliver an excellent sound. A beautiful feel and well-coordinated components complete the picture of the DBR62. The bookshelf speaker is ideal as a front and rear speaker and can be wonderfully positioned. Due to the price-performance ratio, the ELAC Debut Reference DBR62 is a clear recommendation.
ELAC Debut Reference DBR62

In the subsequently played "No Sanctuary Here" by Chris Jones, the Elac box shines with a pleasantly deep bass. Especially in the midrange, the DBR62 now offers me a multifaceted sound and cleanly traces Chris Jones' voice.
It is pleasantly crisp, punchy and shows itself in its element with fine dynamics, but never looks overly fat.
This positive impression continues in the "Asphalt Canyon Blues" by Kenny Burrell and Grover Washington. The played double bass proves lightning-fast response and sounds sharply drawn.
The crisp bass drum snare combo played in the intro is immediately fun and knows how to impress with these rather compact speakers. They also provide the necessary punch here. The hi-hat has enough bite to offer the contra.
The DBR62 are loudspeakers that can be really fun. This applies to the optics, the sound and also for the wallet. At a distance of about 40 centimeters, the DBR62 plays tight and delivers an impressive, deep bass. Slightly screwed into the listening position, it also offers a very realistic and credible spatial representation. In addition, there is a very good material quality and impeccable workmanship.
Advantages:

+ modern design
+ magnetically adhesive covers
+ very good workmanship
+ realistic spatial representation
+ agile basic tone
+ very good bass tuning

Magazine 02/2020


ELAC Debut Reference DBF52: Price range: "reference"

Advantages: very good workmanship; great material quality; simple design; excellent sound; strong bass; good spatial representation; low price for what is offered.
Disadvantages: Bi-wiring is missing; installation critical.

Strengths: price / performance ratio; strong bass; very good resolution; nice look
ELAC Carina BS 243.4

It was obvious: the Elac BS243.4s could resolve supermicro information better than any speaker I know in its price range. The choir appeared as genuine little heads with faces and moving mouths, the sound of each singer unique and distinct.
In a confession booth or while handling snakes by a pulpit, I'd have to swear: Elac's new Carina BS243.4 loudspeaker sounded more refined than any similarly priced loudspeaker I know of. Mainly, though, the stand-mounted Elac's greatest virtue is its supersmooth octave-to-octave balance. Throughout my review process, the word elegant kept forcing itself on me. Bravo, Andrew and Elac!
ELAC Carina BS 243.4

Even though the Carina has a more upfront presentation, soundstaging and imaging were well above average for this class of compact. During Vaughn-Williams Wasps Overture, there was good if not standard-setting orchestral depth. Layering of string and wind sections was naturalistic, but Carina doesn't exaggerate spatial details with a recessiveness that can create a false sense of dimension. In soundstaging it has a more straightforward monitor-like signature.
In exchange for a small footprint and ease of placement, compact two-way monitors like the Carina BS243.4 engage in a complex dance that balances sonics with convenience.
Elac's Carina ably demonstrated that it indeed possesses that sonic magic. On a scale of sheer musicality and value, it rates very high in my book.
ELAC Carina BS 243.4

They deliver room-filling sound with even 20 watts per channel and are easily driven by tube amplification as well as solid-state. The JET AMT tweeter is very smooth and does not need a tube amplifier to tame it.
The strength of these speakers is the high level of musical information they reveal, for their minimal cost. It's exciting to see several truly great speakers that are in reach of any music lover. The ELAC Carinas are certainly at the top of our list.
Andrew Jones' sterling reputation is once again upheld with the ELAC Carinas. These are fantastic speakers.
ELAC Carina BS 243.4

String stops on the bass can be heard via the Elacs before other speakers have noticed what is going on. In fact, compared to my time-honored English floor-standing speakers, the chic compact speakers play so dynamically and quickly that I wondered during the first page of the record whether the turntable may be running too fast.
This bookshelf loudspeaker is a very hot recommendation for discerning music lovers who have little space for speakers but who require a realistic spatial representation, richness of detail and temperament from their new sound transducers, such as the rustling of the sheet of music when turning the page. The BS243.4 makes exactly that possible, without dissecting the sound or making it appear sterile in any way.
Optics and technology merge into a committed unit. Even a look at the technology, especially the magnetostatic JET tweeter, is part of the design concept here. This AMT is also responsible for the airy, detailed and agile sound of these delicate bookshelf speakers. The woofer enthroned underneath is in no way inferior to its play partner in terms of agility and joy. Thanks to it, the playback range is effectively expanded downwards without the bass range being overpowering or overbearing.
Advantages:

+ chic design
+ excellent workmanship
+ flexible installation options
+ bi-wire connection panel
+ realistic room layout
+ punchy basic tone
+ effective bass tuning
ELAC Carina BS 243.4

After my several days of constant irrigation through the various music epochs and genres, I can only come to one result: The ELAC BS 243.4 not only look chic and are of high quality, they also sound as good as they look. In any position, at any volume, whether elaborate orchestral pieces, quiet ballads or dynamic rock or electronic music, the compact representatives showed their best side.
Above all, the richness of detail is stuck, which is not annoying at all, rather the ELAC have the ability to link them harmoniously and present them in a very harmonious sound image. But also the bass range is surprisingly powerful and crisp in the tunin.
After the consistently positive lines, it should be easy to guess what result we have come to. The smaller model BS 243.4 can also delight and complements the Carina series with an elegant, very compact loudspeaker. In addition, there is a high-quality workmanship, which is not necessarily common in this price range and is excellent for the speaker.
| | |
| --- | --- |
| Magazine 03/2020 | "All in all, the new Elac floorstanding speaker is more than a solid entry into the high-end world. The Carina 247.4 sounds natural and balanced, sometimes almost neutral and tightly tuned like a studio monitor, if need be, but also as impulsive as a large concert speaker. This is not least due to the harmonious interplay between highs and basses, which are never too thin or too bulky ... " |

Magazine 12/2019


ELAC Carina FS 247.4: Price / performance: "Very good", "Highlight"

"Very good - outstanding"; Top class

Plus: flawless processing; chic design; uncomplicated installation; dynamic sound; detailed reproduction; solid bass; Price for what is offered.

Magazine 01/2020


Advantages: very good workmanship; beautiful design; great sound; HiRes capable; strong bass; neat spatial representation.
Disadvantages: missing front covers.
ELAC Debut B5.2

These Elacs are arguably the most capable budget standmounters we've heard
You can enjoy a wide range of music too. We listened to everything from the sparse electronica of Neneh Cherry's Broken Politics to Dave Brubeck's Take Five and these little speakers take it all in their stride. They have the dynamic expression, detail resolution and tonal sophistication to handle it all, and enough stretch in their abilities to get better even when the rest of the system is upgraded.
Elac has been in the speaker business since the 1980s and has made many fine products in that time. It's fair to say that these new Debut B5.2 speakers should be considered one of the company's finest efforts, particularly when their price is taken into account. If the established budget speaker brands aren't worried about these boxes, they should be.
SCORES:

Sound 5
Compatibility 5
Build 5
ELAC Debut B6.2

The sound has a thick consistency, and the bass rumblings are firmly and clearly marked. It makes no room for any coloration. We are dealing here with a surprisingly stable bass given the dimensions of the speakers.
The Debut B6.2 can hold its own in this company, but if imagery is your top priority, the little ELAC really does make it big.
LIKE: Well-judged bass; sweet treble; outstanding imagery
WE SAY: A thoroughly competent budget loudspeaker
ELAC Debut F5.2

When material is softer and quieter, the delicacy and clarity offered by the tweeter is most impressive. It picks out the minutiae buried in the depth of the action and is easily heard, but without a hint of stridency or sharpness. The cymbal strikes on theextreme right of the soundstage at thebeginning of Stevie Wonder's Higher Ground shimmer off into the distance deliciously and the hi-hats are snappy and taut.
The midrange reveals magnificent detail with vocals and instruments
The bass output kicked out by the compact F5.2 is quite an eye opener. Never once does it sound lightweight or as if it's struggling. Instead, bass digs deep and with a highly accomplished sense of timing.
LIKE: Impressive bass weight; fine imaging; treble purity
WE SAY: A larger-thanlife floorstanding design with a big heart
ELAC Debut F5

Upper class - Price-performance: outstanding
Directly aimed at the ears, the Debut F5 can be recognized as very harmoniously coordinated speakers that sound wonderfully round in all situations and enable long listening sessions without symptoms of fatigue.
Spatially, the Elacs play to the point, the center location is exact, voices and instruments are displayed in the correct size.
Singing is reproduced authentically and very clearly. even fine voice variations are easy to understand.
The bass reproduction is also convincing: pressure, depth and precision leave little to be desired. Up to a very respectable level, the bass makes an extremely confident impression.
The tweeter shows its relaxed side. Details are in abundance, but the level, which is reduced to the highest frequencies, never makes the performance seem obtrusive.
Laboratory In front of our measurement microphone, the Elac Debut F5 speakers give a balanced picture. The radiation behavior is very good, the amplitudes are almost identical when viewed on axis and below 15 degrees. Except for a few residual resonances, the waterfall diagram is also inconspicuous.
Conclusion In sunny California, Andrew Jones built fine speakers for Elac, which play into the hearts of listeners thanks to their extremely long-term sound image. The Elac Debut F5 sounds very harmonious and plays well in all registers, coupled with a great atmosphere. With the estimated price of just 760 euros the pair will receive music enthusiasts who are interested in beautifully designed speakers with impeccable workmanship.

Magazine 01/2016


ELAC Debut F5: Price / performance: "Very good"

"Contrary to the visual impression, an acoustically surprisingly powerful floorstanding box. Slightly unbalanced, on the one hand decent draft, on the other hand also very brilliant. In terms of price (almost) unbeatable."

Magazine 01/2016


ELAC Debut F5: Price / performance: "Excellent", "Price tip"

"In sunny California, Andrew Jones built fine loudspeakers for Elac that play into the hearts of the listeners with their extremely long-term sound. The Elac Debut F5 sounds very harmonious and plays well in all positions, paired with a great atmosphere. With ... just 760 euros the pair received ... Music enthusiasts very beautifully designed speakers with impeccable workmanship."

Magazine 03/2016


"With careful placement, the Elac F5 deliver a balanced bass that blends in pleasantly with the overall sound without exaggerating excessively. The loudspeakers still reach deep down and bass runs get a gnarled character that does not change even at high volume. Distortion? I search in vain!

The middle area brings a slightly warm note, which ensures a pleasant basic tone and gives the speakers their musical character. Voices and instruments are resolved equally well and provided with a good portion of depth representation. It is fun to listen to the Elacs because they are free of overemphasis and do not push themselves into the foreground like a diva.

Andrew Jones did not reinvent the wheel with the Elac F5, but instead put a very good speaker in an affordable price range. Musicality counts more here than being absolutely perfect in detail."
"He tends to paint warm sound pictures with a coating that is commonly referred to as "analog". The high-pitched range reproduced the Elac rather unobtrusive and finely drawn." Low Beats
"The new Element EA101EQ-G is surely the shape of things to come for entry-level integrated amplifiers." Hi-Fi News
"ELAC's latest integrated amplifier packs a punch" Hi-Fi Choice
"...the music appears completely detached from the cabinet. It spreads across the room and hangs in space."

"Integration with that tweeter is one of the speaker's real strenghts."

"...they are capable of very interesting tonal resolution and they couple this with a musical top to bottom togheterness that is a constant surprise."
"The "Khallık Fernını" opener sports very wispy cymbal and brush work across a widely spaced drum set. Some of it is so fine as to nearly fall below the treshold of audibility. The 4pi Plus.2 lowered that threshold and with it lifted a small damper on decay lengths."

"The illusion of paralleled performers playing the same notes was heightened. The breathiness of the solo bass ney was enhanced as well. Close-mic'd piano had clearly more overtone action, more energy spray off the strings. "

"Clearer separation is one aspect of it and as such most apparent on dense material. It's like turning up overhead lights to increase contrast."

"The 4pi's effectiveness comes as no surprise. It is perfectly logical and predictable... why haven't we heard more about this brilliant invention?..."

"It's Elac's 4pi radiation which makes the decisive difference... the 4pi Plus.2 occupies a league of its own. In my book, that makes it an especially super tweeter indeed."
"This speaker has no weaknesses and has grown all walks of life. It tops its all-round skills with audiophile virtues such as spaciousness, fragrant resolution and precision to the lowest layers. Not cheap but worth every penny."
"I wrote down almost two pages on my personal notebook only descriptions of how these speakers behave in terms oftransients. As for the body of the instruments, the materialization and dynamic musical event , the FS 609 are simply score of 10 ! It is impossible not to yield to its enormous qualities and revere the brand even more by the sheer consistency in providing the consumers with extremely honest and consistent products, from the most modest over to its top line."
"IMPRESSING TECHNIQUE, LARGE SOUND"

We like:

· Amazingly detailed

· Great and well build construction

· Very engaging and lifelike (sound)

We Believe: A huge speaker that can give you everything you desire for sound and sound experience, but not for beginners.
"The brilliance with which this speaker reproduced the topmost layers is impressive. Seamlessly joins a full-bodied
Midrange and an opulent bass."

"... Even with high and highest levels, the 509 was acting totally stress free in the Bass."
"Large floorstand loudspeaker with classy high gloss finish cabinet. The excellent two-way coax driver has a mechanical adjustment range. Very dedicated, analytical sound in the positive way. Also excels at large throw distances."

Rating: 85 points

Sound: "Absolute Spitzenklasse"

Price / performance: "sehr gut"
"... With the 509 you can buy not only a great dynamic, full and the transparent box, but also one which adapts to different acoustic listening rooms. Only these should not be too small."

Sound Rating: 102 points

Price / performance: "outstanding"
"ELAC's use of their JET ribbon tweeter is the hi-fi equivalent of a turbo charger; it magically wipes away so many of the pitfalls of small speakers by using a superb treble transducer that wouldn't disgrace a speaker at several times the price."

"...Hooked up to a beefy transistor amplifier (if it's valves you're running they've got to be particularly punchy) and a decent front end, the Elacs really take your breath away. They're far more sophisticated than is expected at the price, with none of the squawking, screeching and boofing of many sub- £ 1,000 standmounters."

"The BS 243's inherently transparent nature, allied to realistic three dimensional imaging, rhythmic alacrity and extended, delicate and sparkling treble make them an essential audition for those looking for grown-up transducers that take up a small space."
"... frequency response analysis shows they are almost ruler-flat, meaning, they will provide great tonal accuracy and balance, but also low colouration..."

"The ribbon treble unit Elac use is a good example of this, measuring far flatter than dome units, and this gives the BS 243 an unusually even treble characteristic above 4kHz that will almost certainly translate into smooth, clean treble, of exemplary ribbon quality."

"As for the bass? That, if anything, was the surprise package. It was pacey and effective but without strain or boom. "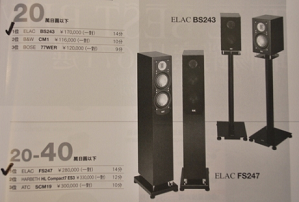 STEREO SOUND (Japan) "Best Buy" Awards:

1. ELAC FS 247


2. Harbeth HL Compact 7 ES3




3. ATC SCM19
"Laboratory:
Exemplary alignment and stability characteristics. Moderate Sensitivity - 86 dB at 4 ohms."

"The following:
Charismatic, artistic, vibrant, pleasantly warmed, smooth, and distribution."

"They are just beautifully shaped and flattering - transparent, fine saturated, with good light. The fact that they remain perfectly aligned with the center, I had not to write ... The scene is more focused ... and thus - locations are perfect, that is accurate and saturated, as indeed is closely related to the plasticity of sound."
"Bass goes down surprisingly deep; Electric bass, double bass and drums convincingly depicted realistically and with enormous energy and great precision in the listening room"

"The resolution of detail is very good, also we like
the spatial imaging performance."

"The FS 247 BE plays extremely linear and convince
with their superior coverage. Also, the THD and decay is very first quality."
"IN OUR VIEW
FS247 Black Edition - a very successful column of the German manufacturer. They sound very impressive, it is impossible to get bored with them. The deep bass, sparkling, velvety highs and unusual portion of energy -
Merit recommendation."
"The FS 247 Sapphire Edition combines the sweetnes and ultra-wide imaging of Elac's proprietary JET tweeter with pace and neutrality across the rest of the spectrum. Impressive from the outset it is about as music-genre agnostic as loudspeakers get and very easy to live with. The somptuous good looks, fine attention to detail, accessories and superb finish make this sleek German speaker excellent value"

"The first thing anyone will notice when hearing ELACs for the very first time is the sound of that JET tweeter. It is breathtakingly sweet and articulate. Suddenly metal domes sound hard and 'ringy' in comparison to the JET's sophistication and detail. It sounds clean, crisp and seamlessly well balanced throughout the top end of the spectrum with wide, wide, projection. Clearly the design of the tweeter's baffle will encourage a considerable horizontal soundstage you can measure in acres with a very generous listening sweet-spot"
"spatial and dynamic resolution, dry, contoured bass, bass and dispersion control, rubber feet and spikes."
"Plus: a great timing, excellent sense of rhythm, dynamics, high resolution and very flexible."

Sound Rating: 94 points

Price / performance: "very good"
universally neutral tonal balance, this speaker plays no favorites with musical genres.

Plays well accented and with good detail both loudly and quietly.

Highly resolved finely nuanced treble

Bass is extended and substantial.

The Elac manages to completely disappear, i.e. the music decorrelates completely from the enclosures.
"The sound is characterized by an unusually high correlation in the upper frequency range, with an almost perfect transition between the tweeter and midrange. Put another way, it is difficult to hear that you listen to the speakers and not the real thing ... "

"All vowels are simply masterful rendered and Elac sounds clearly better singer than the Audiovector. Katie Melua lovely voice clearly drawn up in front of us "

"... a speaker that sounds very well balanced and comfortable, no matter what type of music you challenge them with. It is especially in the top of the frequency range that great impresses FS 249, but bass response is also very deep and precise. ."
ELAC FS 249 assured the Hifimaailma listening jury, winning a EUR 5000 floorstanding speakers comparison test.

"Sound has a nice purity and unity, above average ... and is a universally appealing package for all forms of music."

"The speaker sound is a natural presence ... without intruding; it was a vibrant and inspiring to listen acquaintance."
"Elac FS257 has the kind of sound that impresses from the first second...

The sound is sparkling clear with a detail that goes beyond mainstream speakers."

Sound Rating: 6 stars - "Especially recommended"
"Universal artists, endowed with musical sensitivity. For a fairly modest price, you get advantages of more expensive speakers."

"... Put a live album by Patricia Kaas, and you will see that they are spiritually rich and transmit voice, even in this flawed record - except that sibilants could be a little quieter. On the other hand, it is the sharpness of execution coupled with the ability to penetrate the emotional essence of the songs that makes BS184 truly universal! satellite music lover."
"Incredibly, the power and vitality sprayed by Elac BS 184..."

"...on the Elac, one could not escape the impression of a freshly cleaned window pane."

"Balanced-clear, very dynamic and enormously alive playing loudspeaker."

"Well-balanced with a slightly decreasing, but extensive bass... THD continuously at a low level in bass, amazing reserves."
Test winner in MikrobittiHi-Fi Magazine (Finland)
"Juicy, plastic, slightly warmed, softened and smooth, clean and subtle"

"The colour of the FS 187 columns seems to be both warm and clean, smooth texture, devoid of naturalistic roughness. Midrange leads... round and soft, persuasive liquidity and "lyricism" - female vocals come out really beautiful, and are not lifted and brightened"
"... Technically ELAC has a lotg going for it. Sensitivity is high, which is never a bad thing provided that the tonal balance and coloration level's don't suffer - which they donn't in the FS 189. It has one of the most neutral tonal balances of the group..."

"Elac's claim of 90dB sensistivity for the FS 189 accords very closely with our measured pink noise figure of 90.1dB. This - marginally the highest sensitivity of our group - is, moreover, achieved without recourse to a punishing load impedance. In fact the minimum impedance modulus of 4.3ohm - right on spec ... indicate that Elac presents the most bening load here, although it still demands an amplifier capable of driving low impedances"

"On-axis frequency response errors of ±2.2dB and ±1.8dB, 200Hz-20kHz are confortably the lowest in the group, as is the excellent pair matching figure of ±0.7dB over the same frequency range. The cumulative spectral decay waterfall is first class too..."
"Air and transparent sound; rhythm; clear bass, expressive vocals, great focus, scope and organization of space"

"Excellent speakers can lead vocals, even such a demanding, like Anna Netrebko on CD Sempre Libera."

"Beautiful focus and the formation of musical space - another distinctive feature of the loudspeaker, which in the aggregate in the tonal balance allows them to confidently carry out even the symphonies of Tchaikovsky."
"The FS 67.2 - an attractive design, impeccable workmanship - including its gloss lacquer surfaces - and useful features.

The FS 67.2 provides, despite its low price, a loudspeaker with consistently high-quality technology, making the corresponding sound: Elac FS 67.2 can satisfy also the demanding music listeners. Interested parties need not consider the balance between the priorities of optics and acoustics, because the FS 67.2 excellently meets both needs."
"I like the revised Elac FS 67.2 not only for the looks: especially in sound the slender tower speaker have much to offer. Whoever hears will not believe that these excellent speakers can be called for only 700 €. Sound tip - and to listen to the dealer"
"ELAC is building with the small tower speaker line FS 67.2 60.2 one for its price range perfectly crafted design speaker, the fine glossy coat front with the contrasts of the silvery chassis reflects sound too. Fine lines and amazing dynamics characterize the crystal-clear, but never on the field tending sound. Respect and Price Tips are the deserved reward."
"Plus: Very honest, balanced, high - resolution box with super dynamic and precise articulation. Minus: Too honest for difficult shots :) "
Elac FS 68.2 won a first place in the German PC Welt magazine:

1. ELAC FS 68.2

2. Canton GLE 470.2

3. Quadral Shogun X
"Sonically and visually convince us the Elac BS 63.2, so that we can recommend to all those who are looking for a nice speaker with compact size for home listening."
"The sound of this inexpensive bookshelf speaker was well balanced and clear in the whole band. The tweeter is just fine sewn to the midbass driver..."

"Very good job of the designers in the configuration of this model. The frequency response and THD measurements show very, very good results. The frequency response has a small unbalance and is close to zero. This means a smooth output at all frequencies, in the operating range..."
Elac FS 58.2 became to be a Testwinner in German magazine Stereoplay 02/2011 in a strong competition between 5 other brands:

1. ELAC FS 58.2

2. Canton GLE 4702

4. Monitor Audio Bronze BX5
"Compact two-way active monitor in technology with an classic assembly and attractive lacquer cabinet. Analog plus digital input in cinch and XLR. Remarkably powerful and neutral sound even at high volumes. Extremely cheap!"
| | | | |
| --- | --- | --- | --- |
| Model | Publication / Source | Date | Note |